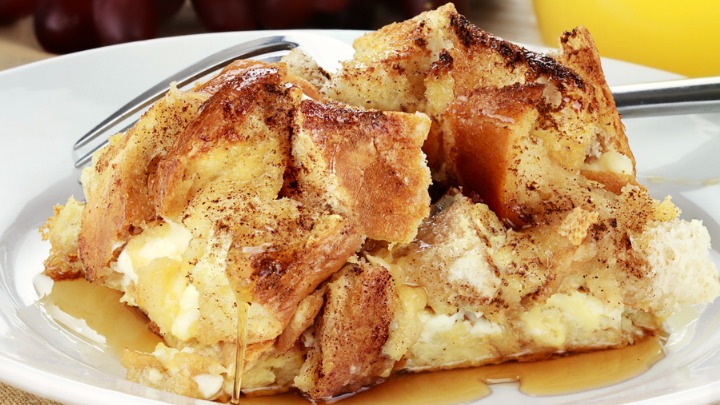 If you're in the mood to indulge yourself, step right up and hold out your plate because this is the meal for you! This recipe takes French toast to a whole new level with cream cheese, cinnamon and vanilla extract coming together to create the most gorgeous breakfast treat. We've added blueberries into this recipe for an extra burst of sweetness, but you can leave them out and sprinkle over the top when serving if you prefer. Add whatever fruit you like to the top and if you really feel like going crazy, you can throw on a few a few toasted almonds on, too!
Ingredients
225g cream cheese, softened
1 cup icing sugar
2 tablespoons milk
1 tablespoon vanilla extract, divided
2 cups blueberries, divided
2 loaves French stick (baguette), cubed
2 cups milk
8 eggs
1 teaspoon ground cinnamon
Maple syrup, to drizzle
Method
1. Mix cream cheese, icing sugar, 2 tablespoon milk, and 1 teaspoon vanilla extract in a bowl until smooth and creamy; fold in 1 cup blueberries. Cover the bottom of a 10×14-inch baking dish with 1 layer bread cubes. Spread cream cheese mixture over bread layer; top with remaining bread cubes.
2. Whisk 2 cups milk, eggs, 2 teaspoons vanilla extract, cinnamon, and nutmeg together in a large bowl; pour over bread mixture. Sprinkle 1 cup blueberries over bread-egg mixture. Cover dish tightly with aluminum foil and refrigerate, 8 hours to overnight. Remove from refrigerator 30 to 60 minutes before baking.
3. Preheat oven to 190C. Bake in the preheated oven for 45 minutes. Remove foil and continue baking until centre is set, about 30 minutes.
—————————————————–
If you'd like to see more recipes from Starts at 60, click here. And if you have a recipe you'd like to share with the Starts at 60 community – we'd love to share it! Submit them to us by completing the form below.
Submit your article here