Oven-baked zucchini and feta fritters with garlic-yoghurt sauce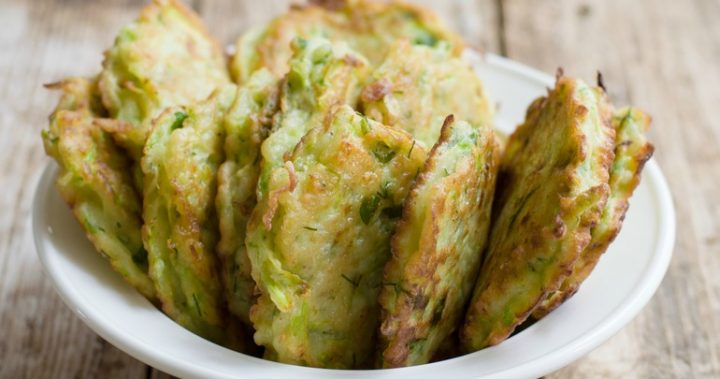 If you're looking for a delicious, easy, and nutritious dinner, give these oven-baked zucchini and feta fritters a try.
As they're oven-baked, they're a lot healthier than your traditional, deep or shallow-fried fritters, with less oil, and as a bonus, less mess!
These tasty morsels turn out moist on the inside, crispy on the outside, and not greasy like you find with fried foods.
Ingredients
For the fitters:
2 medium zucchinis, peeled and grated
1 teaspoon salt
1/4 teaspoon black pepper
1 garlic clove, crushed
1 tablespoon olive oil
1 teaspoon baking powder
2 tablespoon chopped dill (fresh or frozen)
2 large eggs
1 cup crumbled feta cheese
3/4 cup breadcrumbs
For the yoghurt-garlic sauce:
1 cup Greek yogurt
1/2 small garlic clove, crushed
Salt to taste
1-2 teaspoons chopped dill
Method
1. Sit grated zucchini in a strainer over a bowl and stir through salt. Allow to sit and drain for 20 minutes, before squeezing out any excess liquid.
2. Preheat over to 175C and line a baking tray with nonstick baking paper.
3. Combine all fritter ingredients in a large bowl. Shape approximately 2 tablespoons worth of mixture into patties and place on baking tray.
4. Bake for 25-30 minutes, or until patties are golden-brown.
5. Combine all ingredients for the sauce, and serve with hot fritters.