Old school strawberry and peach tart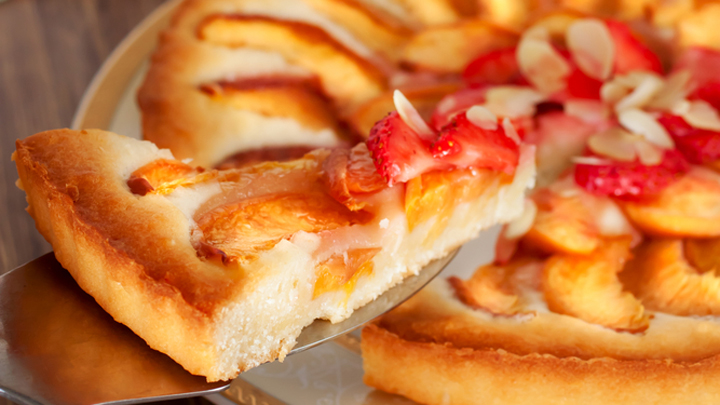 As it gets hotter, the better the produce that's coming out, especially fruit. And what better way to make the most of it then by making a sweet, delicious tart?
This strawberry and peach tart is an old school, rustic delight with ingredients found in your cupboard, except the peaches and strawberries.
Make it for a fresh, seasonal treat.
Ingredients
Tart filling
Ad. Article continues below.
2 ripe peaches, peeled, pitted, sliced
2 cups sliced fresh strawberries
2 tablespoons sugar
1 teaspoon vanilla extract
Crust
1 and 1/2 levelled cups all-purpose flour
3 tablespoons sugar plus a little extra
1/4 teaspoon salt
1/2 cup unsalted butter
1/4 cup ice water
1 beaten egg
Method
To make the filling, mix the peaches, strawberries, sugar and vanilla in a bowl, tossing well to coat the fruit. Set aside.
To make the crust, whisk the flour, sugar, and salt together in a medium bowl. Cut in the butter until the mixture resembles coarse, pea-sized crumbs. Add 1/4 cup of ice water, stirring with a fork until the flour is moistened. Add more water if the dough seems dry. Gently knead the dough a few times in the bowl until it all comes together. Shape the dough into a ball and flatten it into a thick disk. Wrap it in plastic and refrigerate it for at least 1 hour.
Preheat oven to 190 degrees. Line a large baking sheet and set aside.
On a lightly floured surface, roll the dough into a 30cm circle. Trim the rim of the circle and transfer dough to the prepared baking sheet.
Spoon the fruit, without the juice, into the centre of the dough, leaving a 5cm border all around. Gently fold the edges of the dough over the fruit, overlapping the dough as necessary. Press gently to seal the edges. Pour some of the reserved juices over the fruit, with about 1-2 tablespoons leftover.
Brush the crust with the beaten egg and sprinkle with sugar. Bake for 25-35 minutes or until the crust is golden brown.
Remove from the oven and allow to slightly cool before serving.