Old fashioned chicken soup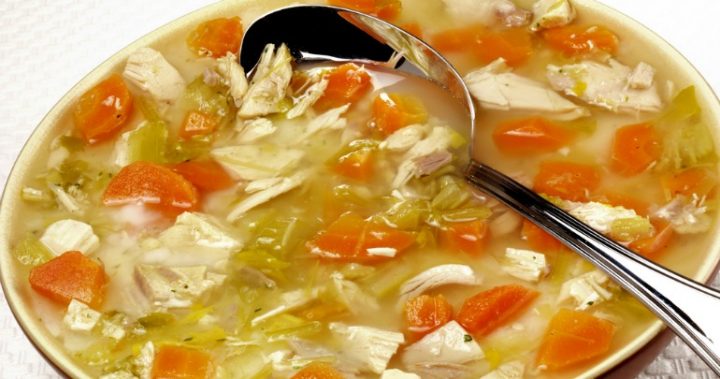 We're just entering cold and flu season, and while we try to avoid getting sick at all costs, if you do happen to come down with the sniffles there's one thing for it: rest and a good old fashioned, hearty chicken soup! 
Made with a whole chicken and plenty of veggies and flavourful herbs, this soup is sure to be a comfort and have you feeling better in no time.
Ingredients
1 whole chicken 
2 onions, chopped
1 bunch celery, chopped
6 cloves of garlic, crushed
4 cups carrots, chopped 
2 bay leaves
1 teaspoon dried thyme
1/4 teaspoon salt
1/4 teaspoon pepper
1 1/2 teaspoon dried parsley flakes
Salt and pepper, extra to taste
Method
Ad. Article continues below.
1. Place chicken in a large stock pot with salt, and cover with water. Bring to the boil, then reduce to a simmer. Cover and simmer for 2 hours.
2. Once the meat starts to fall off the chicken, remove the chicken from the pot and set aside on a plate. Remove the meat from the chicken with a fork, and add the meat back to the pot and discard the unused parts.
3. Add vegetables, herbs, and garlic to the pot and add more water to cover.
4. Bring back to the boil, then simmer for a further 2 hours. Add salt and pepper to taste, remove bay leaves, and serve hot with crusty bread.