Old-fashioned apple turnovers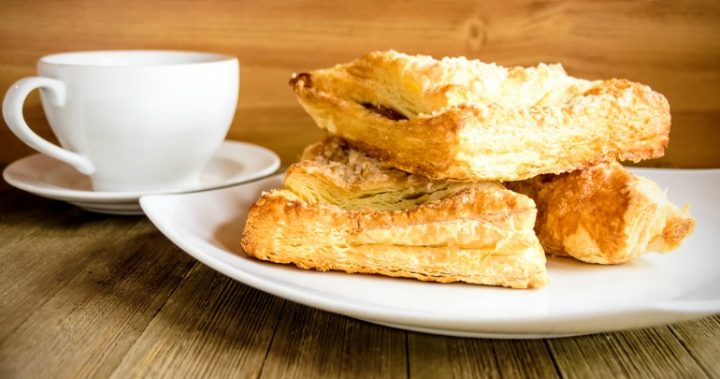 These classic apple turnovers are an old favourite.
The sweetness and delicious, flaky pastry are made all the more delicious with the tartness of the fresh apples.
These can be served for dessert, and made extra indulgent with a side of vanilla ice cream or whipped cream – or both – or they make an extra special afternoon tea all on their own.
Ingredients
4 medium Granny Smith apples, peeled and diced
2 tablespoons butter
1/2 cup packed brown sugar
1 teaspoon ground cinnamon
2 teaspoons cornflour
1 sheet frozen puff pastry, thawed
Egg wash (1 egg beaten with 1 teaspoon water)
Method
1. Preheat over to 200C and line a baking tray with baking paper.
2. Place apples, butter, brown sugar, cinnamon, and corn flour in a medium saucepan and bring to a boil over a medium heat. Reduce heat and simmer for 5 minutes or until apples are tender and sauce thickened, then set aside to cool.
3. Roll out thawed sheet of puff pastry onto a lightly floured surface until you have an approximately 40cm square, then cut it into 4 equal squares.
4. Brush each square with the egg wash and spoon the apple filling into the centre of each square. Fold diagonally in half to form triangles, and press edges together, before crimping using a fork.
5. Transfer to baking tray, brush with egg wash, and use a knife to cut a few vents into each turnover. Bake for 20-25 minutes, or until golden.