Oktoberfest Special: authentic German potato salad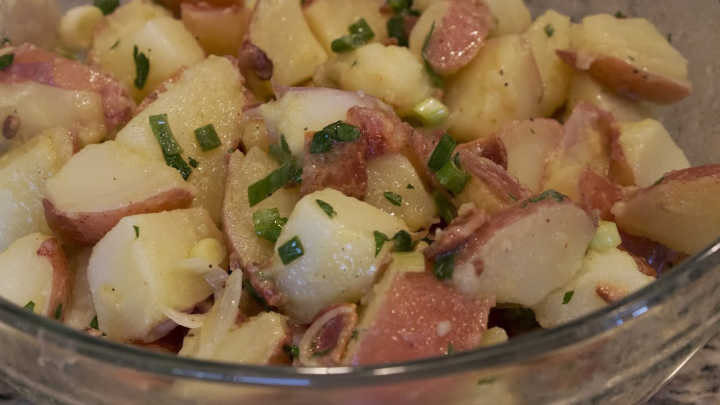 Oktoberfest is the world's largest funfair held in Munich, Germany. If 16 days of sporting Lederhosen and drinking beer doesn't interest you – perhaps recreating some of the best European fare is a good way to celebrate!
Ad. Article continues below.
Ingredients 
3 cups diced peeled potatoes
4 slices bacon
1/4 cup white vinegar
2 tablespoons water
1 small onion, diced
3 tablespoons white sugar
1 teaspoon salt
1/8 teaspoon ground black pepper
1 tablespoon chopped fresh parsley
1/2 cup of cheese (if desired)
Directions
Fill a pot with water and place potatoes inside, fully submerged. Bring the water to a boil, and cook for 10 minutes, or until easily pierced with a fork. Drain, and set aside to cool.
Place the bacon in a large deep frypan over medium-high heat. Cook until browned and crisp, turning as required. Remove from the pan and set aside.
Add onion to the bacon grease, and cook over medium heat until browned. Add the vinegar, water, sugar, salt and pepper to the pan. Bring to a boil, then add the potatoes and parsley.
Chop bacon in to pieces and add half in to the mixture. Heat through, then transfer to a serving dish. Crumble the remaining bacon over the top, and serve warm, adding cheese if desired.
This mixture can be refrigerated safely and served hot or cold.  Enjoy!