Oatmeal white chocolate chunk and cranberry biscuits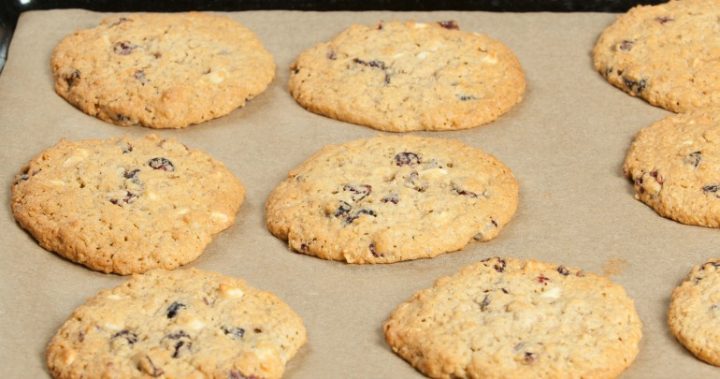 These oatmeal white chocolate chunk and cranberry biscuits are a real treat. They're something a bit different from the traditional oatmeal and raisin or chocolate chip biscuits, but they make an excellent sweet indulgence to go with your afternoon cup of coffee or tea.
They keep well in an airtight container, so you can make them in advance and have them on hand for when your sweet tooth kicks in, or you have unexpected guests.
You can, if you really want, use whole wheat flour to make them healthier too.
Ingredients
2/3 cup butter or margarine, softened
2/3 cup brown sugar
2 large eggs
1 1/2 cups of old fashioned oats (no quick oats)
1 1/2 cups plain flour
1 teaspoon baking soda
1/2 teaspoon salt
250g bag of cranberries
2/3 cup of white chocolate chunks or chips
Method
1. Preheat the oven to 180C and line baking trays with baking paper.
2. Using and electric mixer beat together the butter and sugar until light and fluffy. Add eggs, mixing well.
3. Combine the oats flour, baking soda and salt in a separate mixing bowl. Add to the butter mixture a little at a time.
4. Stir in the dried cranberries and white chocolate chunks.
5. Drop teaspoons of the mixture onto the prepared trays, and press down lightly with a floured fork.
6. Bake for 10-12 minutes or until golden brown. Cool on a wire rack.