Nutty, chocolate refrigerator cake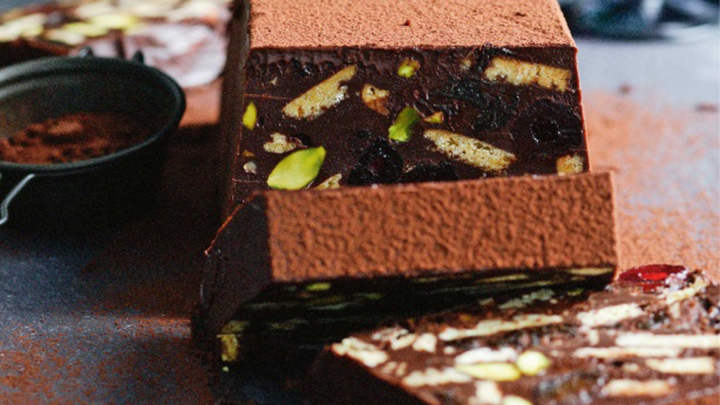 If you are looking for a delicious and easy cake recipe, I have the perfect one for you to make.
This nutty, chocolate cake mixes the best of everything including prunes, digestive biscuits, pecans, pistachios and dark chocolate.
Ingredients:
Method:
Ad. Article continues below.
1. Line a 25cm x 10cm loaf pan with plastic wrap, leaving enough overhanging the sides to cover.
2. Place the prunes and sherry in a small bowl and leave to soak for 2-3 hours.
3. Combine the biscuit, nuts and cherries in a bowl. Place the butter, golden syrup and chocolate in a heatproof bowl set over a saucepan of simmering water (don't let the bowl touch the water), stirring gently, until chocolate melts. Remove from heat.
4. Add biscuit mixture, prunes and any soaking liquid, stirring to combine. Firmly press mixture into the loaf pan to expel any air bubbles, cover with overhanging plastic wrap and chill for at least 4 hours, preferably overnight, or until set.
5. Invert onto a platter, dust with cocoa and cut into 2cm-thick slices to serve.
Source: Taste.com.au
What do you think of this recipe? Have you made a refrigerated cake before? Tell us more below!