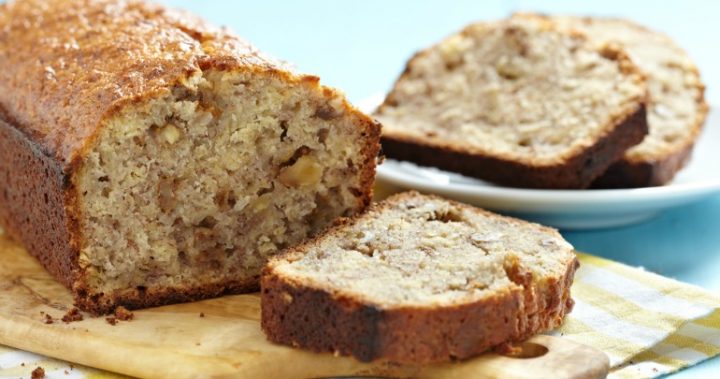 This tasty banana bread has to be one of the easiest recipes out there. It's simply a matter of throwing everything into a bowl and mixing it all together! You can add a splash of maple syrup if you want that extra rich sweetness in there, or, once cooked, cut yourself a slice while it's still warm and drizzle and little maple syrup over the top. The syrup soaks into the cake, making it even more moist and delicious that before. Sure it's a little indulgent, but definitely worth it! Keep the cake wrapped tightly in cling wrap and store in the fridge for up to a week.
Ingredients
100g softened butter, plus a little extra for greasing
140g caster sugar
1 beaten egg
225g plain flour
2 teaspoon baking powder
4 very ripe bananas
85g chopped walnuts
50ml milk
Method
1. Heat oven to 180C/160C fan/gas 4. Grease a loaf tin with butter and line base with baking paper, then grease this as well.
Ad. Article continues below.
2. In a large bowl, mix together butter, sugar and egg, then slowly mix in flour and baking powder. Peel, then mash the bananas. Now mix everything together, including the nuts.
3. Pour your mixture into the tin and bake for 1 hr, or until a skewer comes out clean. Allow the cake to cool on a wire rack before removing from the loaf tin.