Never buy English muffins again: The recipe you'll use over and over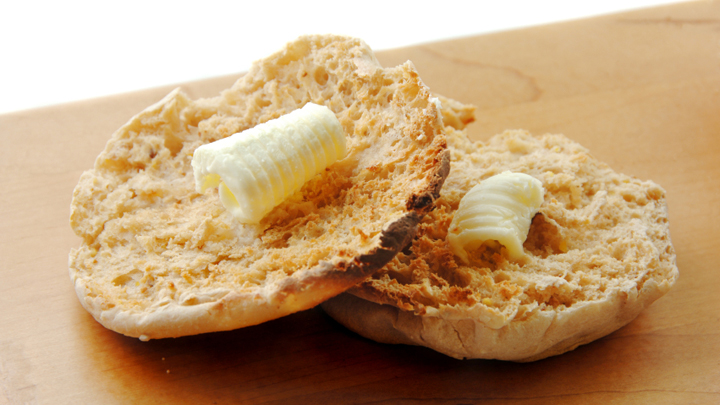 There's nothing better than a fresh English muffin with Vegemite or jam, but sometimes they can cost quite a pretty penny.
But did you know you can make them at home for a fraction of the price and they taste even better than store-bought?
Here's the only English muffin recipe you'll need!
Ingredients
Ad. Article continues below.
300ml milk
1 tablespoon caster sugar
2 teaspoons instant yeast
1 teaspoon salt
40ml light olive oil
400g plain flour, plus extra for rolling
1/2 cup polenta
Method
The day before
Place the milk in a small saucepan and heat until lukewarm.
Transfer the milk to a mixing bowl and add the yeast, salt and sugar.
Sit aside covered in a tea towel for an hour or so until the mix is frothy.
Add the flour and oil and knead with a dough hook on a medium speed until a sticky dough forms or by hand if you don't have a mixer. This should take about 2 minutes.
Cover the dough again and allow to rest for about 4 hours. The mix will double in size.
Place the bowl, covered in cling wrap, in the fridge overnight.
On the Day
Pre-heat the oven to 180 degrees.
Take the dough from the fridge and roll out onto a floured surface, about 2cm thick.
Use an egg ring, cutter or glass to cut out the muffins, re-rolling and cutting as needed.
Cover the sides of the muffin in polenta and place on a lined tray.
Heat a cast iron pan or non-stick pan on a medium-high heat and lay down each muffin.
Cook until dark and charred on each side then return to the lined tray.
Bake for 10 minutes then allow to cool slightly before cutting and toasting.