Mouthwatering garlic and parmesan scalloped potatoes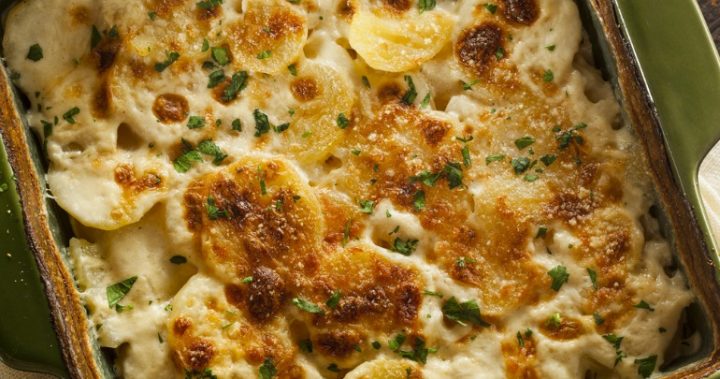 If you're looking for the perfect winter side dish, go no further than these mouthwatering garlic and parmesan scalloped potatoes.
With tender potatoes, creamy sauce, and crispy cheese on top, there has never been a better side dish for your roast!
Ingredients
4 tablespoons butter
1 tablespoon garlic, crushed
4 tablespoons plain flour
4 cups milk
1 teaspoon chicken stock powder
Salt, to taste
1/2 teaspoon black pepper
1 1/2 kgs potatoes, peeled and sliced into thin rounds
2 cups grated mozzarella cheese
3/4 cup Parmesan cheese, grated
1 tablespoon fresh parsley, chopped
Method
1. Preheat oven to 200C and grease a medium baking / casserole dish.
2. In a medium saucepan, melt the butter and add the garlic and cook for around a minute. Stir in the flour and continue stirring for around 2 minutes. Turn heat to low then gradually whisk in the milk 1/4 cup at a time. Bring to a boil and cook until it starts to thicken. Stir in the stock, salt to taste, and pepper then set aside.
3. Arrange a layer of potatoes in the prepared dish, the pour over half of the sauce, then sprinkle with half of the mozzarella cheese and half of the Parmesan. Place the remaining potato slices over the cheese and repeat with the remaining sauce and cheese.
4. Cover dish with foil and bake for 40 minutes, until potatoes are tender. Remove foil and bake for a further 30 minutes, until top is golden brown.
5. Garnish with parsley and serve.