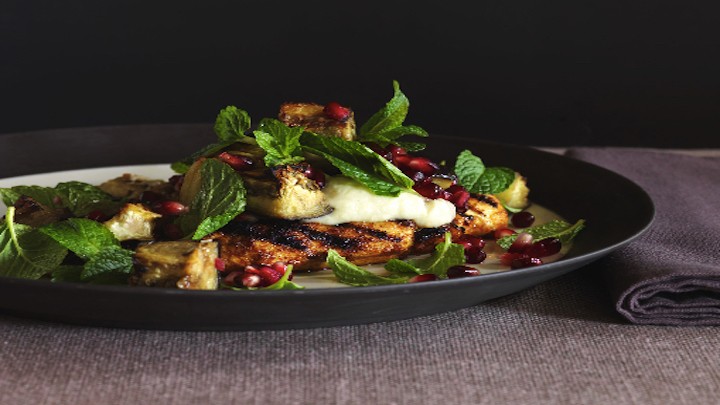 Serves: 2
Ingredients:
250 g boneless skinless chicken breasts or tenderloins
1 teaspoon coconut sugar
2 garlic cloves, minced
1 teaspoon paprika
1 teaspoon ground cumin
½ teaspoon ground coriander
¼ teaspoon ground ginger
¼ teaspoon ground turmeric
¼ teaspoon ground cinnamon
teaspoon chilli flakes (optional)
2 medium eggplants
¼ cup extra-virgin olive oil
Sea salt and freshly cracked
black pepper, to taste
1 bunch mint, leaves picked
1 pomegranate, seeds removed
2 tablespoons eggplant dip, store bought if desired
Method:
Ad. Article continues below.
Place the chicken breasts between two pieces of baking paper and, using a meat mallet, pound to an even 2-cm thickness – you may need to do this in batches. Mix together the sugar, garlic, paprika, cumin, coriander, ginger, turmeric, cinnamon and chilli flakes in a small bowl or measuring cup.
Place the chicken inside a zip-lock bag and add the marinade. Press out air and seal shut. Massage the contents of the bag until chicken is evenly coated, and place in the refrigerator to marinate for at least an hour or overnight if you have time.

 Preheat oven to 200ºC. Cut the eggplant with the skin into 3-cm cubes and place on a baking paper-lined roasting tray. Drizzle over the oil and season with salt and pepper. Cook in the oven for 25 minutes, stirring occasionally to ensure eggplant is cooked evenly and becomes crispy. When ready, remove from oven and allow to cool.

Tear the mint leaves and toss with the eggplant and pomegranate seeds. Divide onto two plates. Place chicken breasts on a hot grill, spooning over marinade. Grill for 2 to 3 minutes per side. Transfer chicken to plates with the eggplant salad. Add a tablespoon of eggplant dip to each plate and serve.

Taken from Get Commando Fit Cookbook
Available for $23.95 from Booktopia
Ad. Article continues below.
Have you tried Moroccan cuisine before? What's your favourite healthy chicken recipe?
If you have a recipe you'd like to share with the Starts at 60 community – we'd love to share it! Submit them to us by completing the form below. 
Submit your article here