Mini Thai green curry pies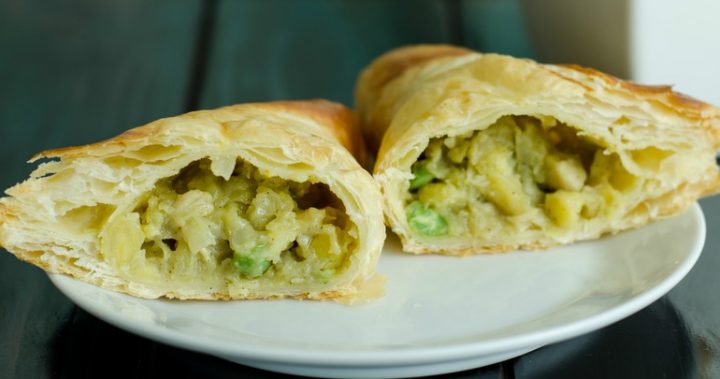 These mini Thai green curry pies are sure to be a hit with their mild spice (just enough for a real hit of flavour), and lovely flaky pastry cases.
Excellent for dinner or lunch, or even as finger food for a party or gathering. Yum!
Ingredients
2-3 tablespoons of Thai green curry paste
1 tin coconut milk
Fresh herbs and chilli to taste (chilli is really only for those who love a bit of extra spice)
2 tablespoons fish sauce
1 tin bamboo shoots
2 tablespoons vegetable oil, plus extra
1kg chicken thighs, cut into quarters
1 cup basil leaves, roughly chopped
Zest of 2 lemons
4 ready-rolled frozen sheets of short crust pastry
2 ready-rolled frozen sheets of puff pastry
2 egg yolks, whisked
1 tablespoon black sesame seeds (optional)
Method
1. For the filling, heat the vegetable oil over low heat in a solid pan. Add green curry paste and heat, stir it for about 1 minute or until it is fragrant. Stir in the coconut milk, along with 1 cup water, fresh herbs and chilli and fish sauce.
2. Add chicken thighs, increase heat to high and bring to a simmer to cook the chicken fairly rapidly. Cover, reduce heat to low and simmer for 1 hour, until the chicken is tender.
3. Preheat your oven to 180C and thaw the pastry.
4. Remove chicken from curry and leave both chicken and curry sauce to cool. When cool, shred meat and mix with basil, lemon zest and 1 teaspoon sea salt. Chop and add the bamboo shoots to the chicken (drain the liquid off). Then add ½ cup of curry sauce to moisten mixture.
5. Lightly brush a standard sized, non-stick muffin pan with vegetable oil. Cut 10cm rounds from the short crust pastry and line the holes in the muffin tin. Place the lined tray in the fridge for 15 minutes. Then fill each of the holes with chicken mixture. Cut 7cm rounds from puff pastry and top chicken mixture with rounds. Press the pastry edges together to seal. Brush tops with milk or egg, and sprinkle with sesame seeds.
6. Bake for about 20-25 minutes or until golden and pastry is cooked through.