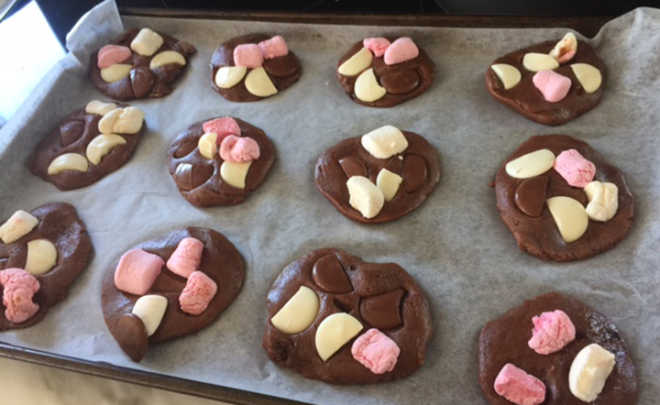 With the school holidays approaching, my family found a recipe they wanted to make this week, adapting it to our own tastes. I have to say, these could be the tastiest biscuits I have ever baked!
Our adaptation of a couple of favourite cookie recipes, is a single recipe that could rapidly become a family treasure. I dare you to get your grandkids in on this one. It's messy, fun and absolutely delicious! When cooked the marshmallow melts to become a toffee that smashes together with chocolate.
Ingredients
250g butter
200g white sugar
130g brown sugar
2 large eggs
10mls vanilla
a teaspoon of cinnamon
6g baking soda
6g salt
400g choc melts (break them all in half)
125g marshmallows (chop them into halves/quarters or use mini marshmallows)
470g plain flour
3 tablespoons cocoa (optional)
Instructions
Preheat the oven to 180 degrees celsius.
Cream the butter and sugar, add the eggs, and beat well.
Stir in the vanilla.
Combine the flour, baking soda, cocoa and salt. Stir into the creamed mixture.
Using a soup spoon, take a ball of mixture, press it out until a flat round cookie shape.
Have the kids press into the top of the cookie the choc pieces and marshmallows – as much as they can fit on each one.
Bake for 15 minutes or until brown.
Cool and serve.  This is the finished product.