Macadamia crumbed lamb cutlets with beetroot dip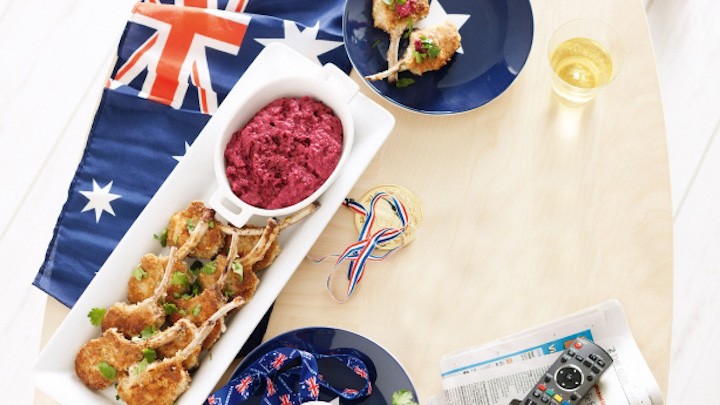 Australia Day is just around the corner which means it is now time to eat lamb! In fact, you've probably been bombarded with lamb advertisements that encourage you to eat lamb on Australia Day because it is very un-Australian if you don't. So why not jump on the bandwagon and try out this delicious lamb recipe? You'll want to celebrate being Australia every day of the year after you try it!
Prep: 30 minutes – Cook: 20 minutes – Serves: 8 people 
Ingredients:
5 white bread slices, crusts removed
1/2 cup macadamia nuts
1/2 cup plain flour
2 eggs
16 lamb cutlets, french-trimmed
1/2 cup peanut oil
Fresh coriander leaves, to serve
200g beetroot dip
Method: 
Ad. Article continues below.
Place bread and macadamia nuts in a food processor. Process until bread forms fine breadcrumbs (macadamias should still be coarse). Then place mixture in bowl and season with salt and pepper.
Place flour on a large place. As well, likely beat eggs in a shallow bowl.
Using the palm of your hand gently flatten the meat on each cutlet until it is about 1.5cm thick. Coat 1 cutlet in flour (shake off excess). Dip in egg and coat in breadcrumb mixture. Then place onto a large baking tray lined with baking paper. Repeat process with remaining cutlets then cover and refrigerate for 30 minutes.
Heat half the oil in a large frying pan over medium heat. Cook cutlets in batches and add more oil when necessary. Cook for 3 minutes on each side for medium or until cooked to your liking. Transfer to baking try lined with paper towel to drain.
Place cutlets on a platter and sprinkle with coriander. Serve with beetroot dip. Enjoy!
What are you going to make on Australia Day? Do you usually make lamb? Share with us below!