Lovely lemon meringue cheesecake slice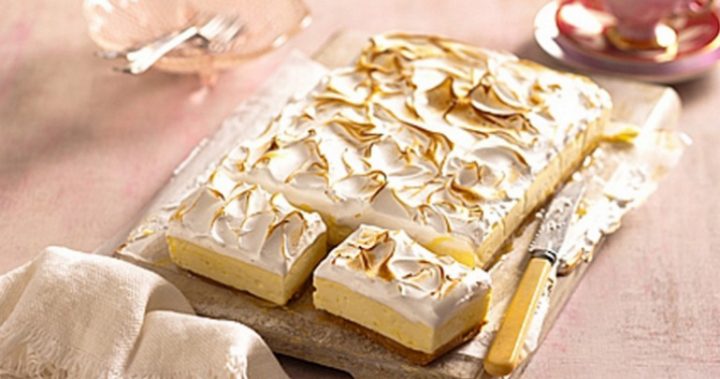 Talk about a treat… This gorgeous slice is an absolute dream! The lemon cheesecake is so smooth and creamy, while the light meringue is perfect on top. The lovely biscuit base has just the right amount of flavour to tie it all together and make one show-stopping slice. You won't be disappointed with this little baby!
Ingredients
250g digestive biscuits, finely crushed
125g butter, melted
1/4 cup lemon curd
500g cream cheese, softened
3/4 cup caster sugar
3 teaspoons gelatine dissolved in 1/4 cup boiling water, cooled
300ml thickened cream
Finely grated zest and juice of 1 lemon
Meringue (see below)
Method
1. Line an 18 x 28cm slice pan with baking paper. Mix crushed biscuits and butter in a bowl. Press into base of pan. Chill for 20 min. Spoon lemon curd randomly over the base.
Ad. Article continues below.
2. Beat cream cheese and sugar in a bowl using electric beaters until smooth. Add cooled gelatine mixture and beat until just combined. Add cream, lemon zest and juice and continue beating until smooth. Spoon over the lemon curd base and smooth surface. Cover, chill for 4-5 hr until set or overnight if time permits.
3. Spoon Meringue over the top of cheesecake to cover and use the back of a spoon to create peaks. Brown meringue with a blowtorch or place under a hot grill. Cut into slices to serve. Store in the fridge.
Meringue
1. Beat 3 egg whites and 1/4 teaspoon cream of tartar until soft peaks form. Add 3/4 cup caster sugar, 1 tablespoon at a time, beating constantly until thick and glossy.
—————————————————–
If you'd like to see more recipes from Starts at 60, click here. And if you have a recipe you'd like to share with the Starts at 60 community – we'd love to share it! Submit them to us by completing the form below.
Submit your article here