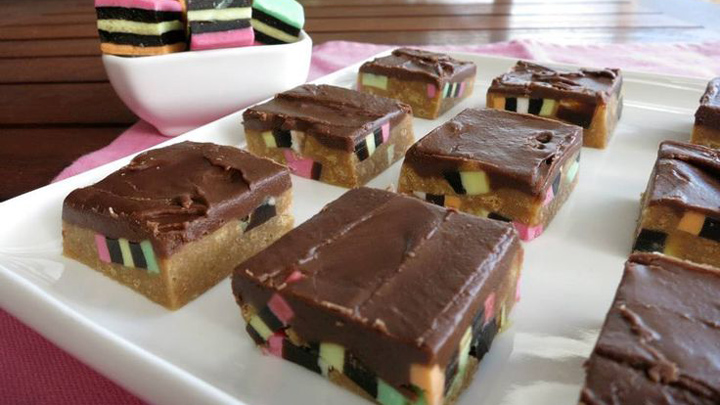 Liquorice Allsorts were one of the greatest lollies from our childhood! Do you remember eating them with your brothers and sisters, arguing over the last piece?
Now you can have a slice, a big slice, all for yourself if you like! Or share it with your friends. Everyone is sure to love this awesome recipe for Liquorice Allsorts Slice.
Even if you don't like liquorice, this slice is surprisingly sweet and you can always take off the layers if you don't like them.
Ingredients
275g Liquorice Allsorts, chopped up
1 packet plain biscuits (~250g)
200g sweetened condensed milk
125g butter
200g cooking chocolate
Method
Line a slice tin with baking paper.
Add the biscuits to a food processor and crush.
Microwave the condensed milk and butter in a large bowl til melted.
Add the crushed biscuits to the melted butter and condensed milk bowl and stir until well combined. Stir through the Allsorts,
Press the mixture firmly into the slice tin.
Melt the chocolate in short bursts in the microwave. Spread evenly over the slice.
Refrigerate slice for a few hours, then slice and serve.
Ad. Article continues below.
—————————————————–
If you'd like to see more recipes from Starts at 60, click here. And if you have a recipe you'd like to share with the Starts at 60 community – we'd love to share it! Submit them to us by completing the form below.
Submit your article here