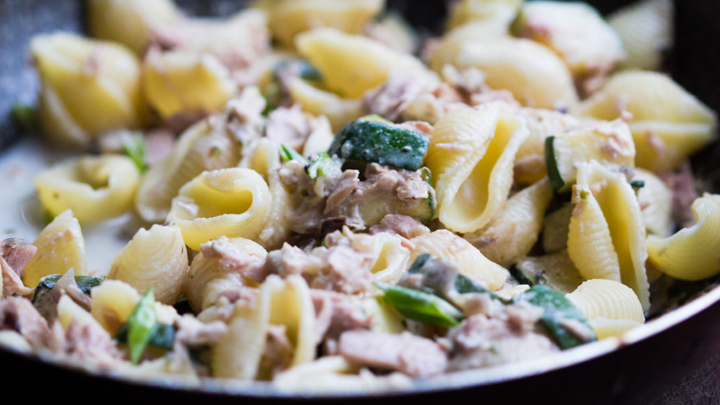 Forget the recipe you've been using for years – this tuna casserole is lighter, tastes better and is good for you. What more could you want?
The end result includes some of the flavours from the more traditional tuna casserole, but some new ones too. Most people add in peas but now they've been swapped for spinach, as have the pasta, chicken stock and cream.
Yum!
Ingredients
450g whole-wheat penne cooked al dente
1 tablespoon extra virgin olive oil
3 garlic cloves minced
1 small onion, finely chopped
2 tablespoons flour
1 cup chicken stock
1 cup full cream milk
1/2 cup low fat sour cream
1/2 teaspoon salt and pepper
zest and juice of half a lemon
1 teaspoon dried parsley
1 cup spinach
100g can tuna in water, drained
1 cup each parmesan and mozzarella cheese
Ad. Article continues below.
Method
Pre-heat your oven to 200 degrees.
In a large saucepan heat olive oil then sauté' onion and garlic for 3-4 minutes or until the onion starts appearing translucent.
Sprinkle onion and garlic with 2 tablespoons of flour and stir. Allow to cook for 1-2 minutes then slowly whisk in chicken stock and the milk and continue whisking until the sauce has thickened.
Add salt, pepper, parsley, spinach, lemon zest, and lemon juice. Stir.
Stir in tuna, 1/2 cup parmesan cheese and 1/2 cup mozzarella cheese. Lastly, stir in low fat sour cream.
Allow to cook for a few minutes so that the flavours incorporate, then stir in the cooked pasta. Pour the mixture into a medium casserole dish.
Top with remaining 1/2 cup parmesan cheese and 1/2 cup mozzarella cheese.
Bake in a 200 degree oven for 10-15 minutes or until the cheese is melted. Serve immediately.