Light and fluffy current scones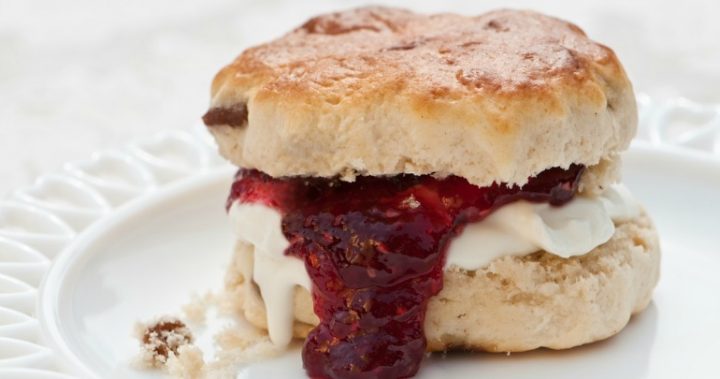 Scones always make a great treat, but these scones really are extra special. This recipe uses chai tea for a gorgeous flavour and currents for a juicy burst with every delicious bite. Chai tea has become increasingly popular over the past few years, so you can pick it up at any supermarket these days. The flavour it brings to these scones is absolutely beautiful and works so well with the jam and cream, too. Serve them up warm out of the oven and enjoy every last bite!
Ingredients
2 chai tea bags
1/4 cup currants
3 cups self-raising flour
2 tbs caster sugar
80g butter, chopped
1 cup milk
Cream and jam, to serve
Method
1. Preheat oven to 220C. Place tea bags into a jug and pour over 1/2 cup boiling water. Set aside for 3 minutes. Remove bags, squeezing out liquid. Discard bags. Add currants to tea and soak for 5 minutes.
Ad. Article continues below.
2. Meanwhile, put flour and sugar into a bowl. Add butter and rub into flour.
3. Drain currants, measuring the liquid in a jug and add enough milk to make up to 11/2 cups. Stir currants and tea mixture into flour mixture. Stir quickly and lightly together using a dinner knife until combined. Turn out onto a lightly floured surface, knead lightly until smooth and pat out until 2cm thick. Cut out 5cm rounds and transfer scones to a baking tray. Bake for 12-15 minutes or until well risen and golden. Serve with cream and jam.
—————————————————–
If you'd like to see more recipes from Starts at 60, click here. And if you have a recipe you'd like to share with the Starts at 60 community – we'd love to share it! Submit them to us by completing the form below.
Submit your article here