Light and crispy fish cakes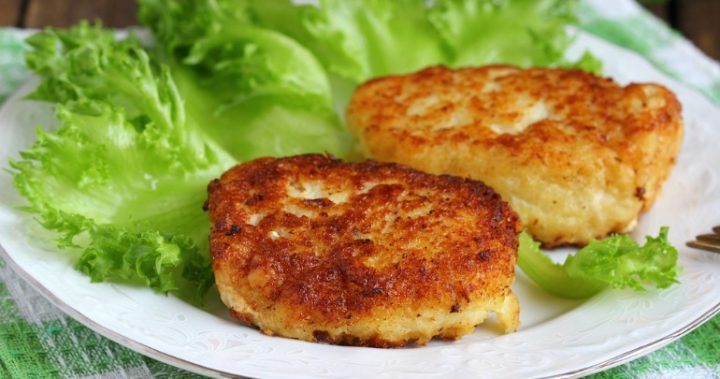 Summer is well and truly here now and these fish cakes are the perfect way to kick of the season. They're super light and fluffy and packed with flavour thanks to all the herbs and a little tartare sauce stirred through the mix before they're lightly fried in the pan until they're golden and crispy on the outside and fluffy on the inside. Serve them up with a squeeze of lemon, a garden salad and a little tartare sauce. Enjoy!
Ingredients
450g skinned cod or haddock fillet
2 bay leaves
150ml milk
350g Maris Piper potatoes
1 tablespoon tartare sauce
½ teaspoon finely grated lemon zest
1 tablespoon flat-leaf parsley, chopped
1 tablespoon snipped chives
1 egg
Flour, for shaping
85g fresh white breadcrumbs, preferably a day or two old
3-4 tablespoon vegetable or sunflower oil, for shallow frying
Method
1. Put fish and bay leaves in a frying pan. Pour over milk and 150ml of water. Cover, bring to a boil, then lower heat and simmer for 4 minutes. Take off heat and let stand, covered, for 10 minutes.
Ad. Article continues below.
2. Peel and chop potatoes into even-sized chunks and boil in saucepan with a pinch of salt for 10 mins or until tender.
3. Lift fish out of milk with a slotted spoon and leave on a plate to cool.
4. Drain potatoes in a colander and leave to cool for a minute. Tip them back into the hot pan on the lowest heat and let them dry out for 1 minute, mashing them with a fork and stirring so they don't stick. Take off heat and beat in tartare sauce, then add lemon zest, parsley and chives. Season well with salt and pepper.
5. Drain off liquid from fish, season with pepper, then flake into large chunks into potatoes. Using your hands, gently mix fish and potatoes together. Put to one side and cool.
6. Beat egg on a large plate and lightly flour a board. Spread the breadcrumbs on a baking sheet. Divide fish cake mixture into four. On floured board, and with floured hands, carefully shape into four cakes, about 2.5cm thick. Coat each cake in egg. Then coat with crumbs until lightly covered. Transfer to a plate, cover and chill for 30 minutes.
Ad. Article continues below.
7. Heat oil in a large frying pan. Fry fish cakes over a medium heat for about 5 mins on each side or until crisp and golden. Serve with tartar sauce and lemon wedges for squeezing.
—————————————————–
If you'd like to see more recipes from Starts at 60, click here. And if you have a recipe you'd like to share with the Starts at 60 community – we'd love to share it! Submit them to us by completing the form below.
Submit your article here