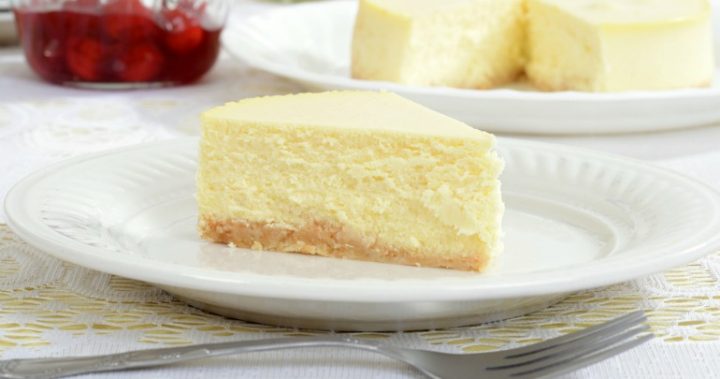 There are all sorts of ways you can make a cheesecake, but you have to give this amazing lemonade version a go! The flavours here are incredible, with lemon zest and juice, lemon curd and lemonade all bringing that lovely citrus hit. Everything is balanced out with a drizzle of honey and double cream to create that amazing cheesecake finish. Serve up a slice with a dollop of cream or a lemon curd and tuck in!
Ingredients
15 digestive biscuits
100g melted butter
1 tablespoon of honey
200ml double cream
500g cream cheese
2 lemons — zest and juice
8 tablespoon of lemon curd
100g icing sugar
500ml lemonade
4 teaspoon caster sugar
Method
1. Preheat oven to 160C. In a heavy bottom saucepan, mix together the lemonade and caster sugar. Reduce on a high heat until syrupy. You should have only around 100ml left at the end.
Remove from the heat and set aside to cool.
Ad. Article continues below.
2. Blend up the digestives, then mix together with the melted butter and honey. Grease a loose bottomed cake tin and press down the biscuit mixture well trying to make the base as even as possible.
3. Bake the base in oven for 5-10 minutes, then cool in the fridge.
4. Gently beat the cream cheese, 6 tablespoons of the lemon curd, the lemonade syrup, icing sugar, double cream, lemon juice and zest together.
Pour the cheesecake filling in to the set base.
To finish the cheesecake, use the remaining 2 tablespoons of lemon curd to pattern over the top.
Ad. Article continues below.
Set the cake in the fridge, preferably overnight.
—————————————————–
If you'd like to see more recipes from Starts at 60, click here. And if you have a recipe you'd like to share with the Starts at 60 community – we'd love to share it! Submit them to us by completing the form below.
Submit your article here