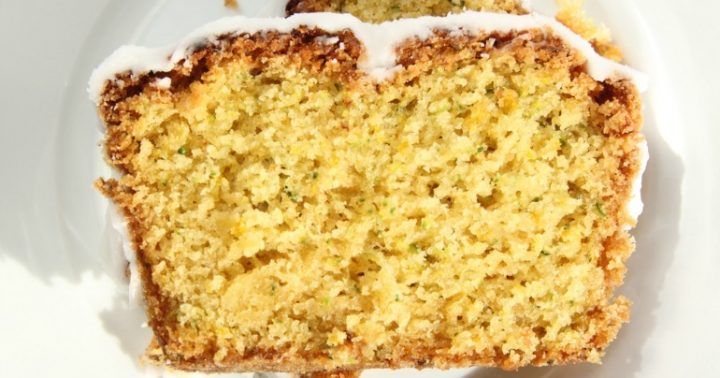 Afternoon tea just got a whole lot better thanks to this beautiful lemon and zucchini cake! The zucchini makes the cake super moist and brings a lovely and flavour. The real star of the show is the lemon though, which appears in the cake, the syrup and the glaze. The syrup really takes things to the next level; it's brushed over the cake before the glaze is added on top to finish things off. Bake it up for the perfect summer treat to sit down and enjoy on a sunny afternoon at home.
Ingredients
1 cup caster sugar
1/2 cup vegetable oil
1 large egg, lightly beaten
1 tablespoon lemon extract
2 tablespoons lemon zest
1 cup grated zucchini
1 1/2 cups plain flour
1/2 teaspoon salt
1/2 teaspoon baking soda
1/4 teaspoon baking powder
Lemon syrup
1/4 cup caster sugar
1/4 cup lemon juice
Ad. Article continues below.
Lemon glaze
1 cup icing sugar, sifted
2-4 tablespoons lemon juice
Method
1. Preheat oven to 160C. Spray an 8 X 4 inch loaf pan with cooking oil spray. In a large mixing bowl, mix together sugar, vegetable oil, egg, lemon extract and lemon zest. Fold in zucchini and set aside.
2. In another mixing bowl, whisk together flour, salt, baking soda, and baking powder. Add the flour mixture to zucchini mixture in 2 additions, mixing until flour is just moistened. Be careful not to over mix.
Ad. Article continues below.
3. Pour batter into prepared pan. Bake in pre-heated oven for 45 minutes or until a toothpick inserted into the centre comes out with just a few moist crumbs.
4. Meanwhile, make lemon syrup. In a small saucepan, cook sugar and lemon juice over low heat until the sugar dissolves. When the cake comes out of the oven, generously brush the top with lemon syrup.
5. Allow cake to cool in pan for 10 minutes, glazing the tops a few more times while it cools. Remove cake from pan and set it on a wire rack, set over baking tray or a piece of aluminum foil, to catch drips. Brush sides and top of cake with remaining syrup, allowing a couple of minutes between brushings, to allow syrup to absorb into cake, until the syrup is gone. Cool the bread completely.
6. Make lemon icing. In a small mixing bowl, mix together glaze sugar and 2 tablespoon lemon juice until smooth. Add more lemon juice, a teaspoon or so at a time, as needed to reach a thick but pourable consistency. Pour the glaze over the bread. Let the it sit out at room temperature until the glaze has dried well.