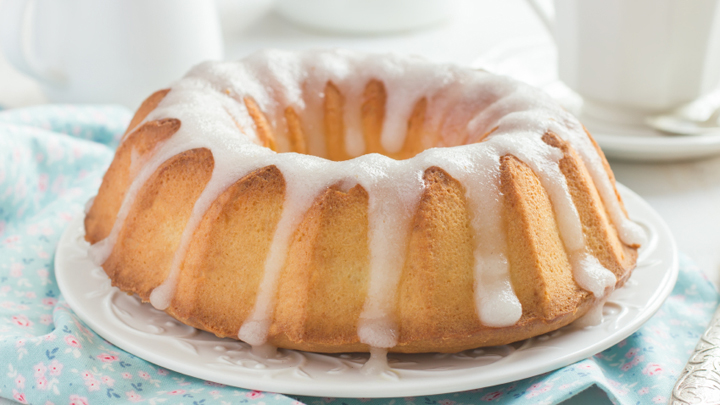 Ad. Article continues below.
This cake is a delight, especially heading into spring. Its yoghurt-sponge's texture is divine, and this recipe is easily adaptable depending on your tastes! Bake it this week to celebrate the warmer weather.
Ingredients
For the cake:
125g pot of natural yoghurt

3 eggs

2 pots of caster sugar

½ pot of olive oil

the zest of 1 lemon

2 tsp dried lavender

4 pots of self-raising flour

3 tsp baking powder
For the icing:
3 tsp dried lavender

200g icing sugar
Method
Preheat the oven to 180C. Grease a 23cm Bundt (circular) cake tin and dust it with flour. Pour the yoghurt into a small mixing bowl and use the pot as your unit of measurement. Crack the eggs into a large mixing bowl and add the sugar, then beat vigorously until the mix becomes light and fluffy, and pale in colour.
Now add the yogurt, olive oil, lemon zest, lavender and a pinch of salt; mix with a wooden spoon until well combined. Sift in the flour and the baking powder, then stir until the batter is smooth.
Pour the mixture into the Bundt tin and bake in the middle of the oven for 30-35 minutes, until it is lightly golden on top and a skewer comes out clean when inserted. Because it is quite a wet batter, it can be tricky to tell if the cake is cooked through – so gently press on top, and if it springs back then it is done. Take the cake out of the oven and turn it on to a cooling rack, then leave to cool completely before icing.
To make the icing, add a teaspoon of dried lavender to a cup of boiling water and leave it to steep for at least 30-40 minutes.
When you are ready to ice the cake, sift the icing sugar into a small bowl and add 3-4 teaspoons of the lavender water. Stir vigorously to stop lumps forming, and keep adding lavender water as you see fit.
You want the icing to be runny but not so thin that it won't set – when you hold up the spoon, the icing should trickle off slowly. If it is too thick add a little more lavender water; if too runny sift in a touch more icing sugar. Use the teaspoon to drizzle the icing over the cake, then sprinkle with the last of the dried lavender flowers for decoration.