Lemon and blueberry crumble slice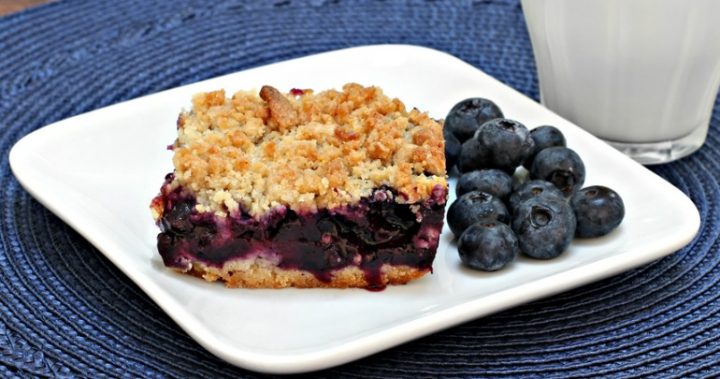 It's always a good idea to have a few go-to slice recipes on hand and this blueberry crumble delight is perfect. They base has a lovely lemony finish with tasty little blueberries baked throughout. On top is a brown sugar crumble, which really makes this recipe extra special. You'll get about 9 large square slices from the whole thing, which you can store in an airtight container in the fridge. Take them out about 15 minutes before eating to take the chill off them, or give them 15 seconds in the microwave and serve them warm with a little fresh cream and a cuppa. Delish!
Ingredients
For the Blueberry Layer
2 cups fresh or frozen blueberries
2 teaspoons cornstarch
Zest of one lemon
1 tablespoon freshly squeezed lemon juice
¼ cup caster sugar
For the Bottom Lay and Top Crumble
Ad. Article continues below.
1 and ¼ cup all-purpose flour, spooned & levelled
½ cup caster sugar
½ teaspoon baking powder
10 tablespoons unsalted butter, cold (1/2 cup plus 2 tablespoons)
1 large egg yolk
1 tablespoon packed brown sugar
1 tablespoon caster sugar
Method
1. Preheat the oven to 180°C degrees. Line an 8×8 inch square baking pan with aluminium foil leaving an overhang on each side and grease with butter. Set aside.
To make the blueberry mixture, in a medium bowl toss together all the ingredients (blueberries, cornstarch, lemon zest, lemon juice & sugar) until the blueberries are covered. Set aside.
2. In a separate large bowl whisk together the butter, flour, ½ cup caster sugar and baking powder. Cut in the butter & egg yolk using a pastry cutter or fork until the mixture is crumbly and resembles wet sand. Press about two thirds to three quarters of the mixture into the bottom of the prepared pan and pack it down tightly with your hands. Pour the blueberry mixture over top.
3. To the remaining flour mixture, cut in the brown sugar and remaining 1 tablespoon of granulated sugar. Crumble the remaining dough over the blueberry mixture by squeezing it in a fist with your hand, then crumbling it over the mixture.
Ad. Article continues below.
4. Bake in the oven for about 45 minutes, until you see the blueberries bubbling and the crumble layer starting to turn golden. Allow to cool fully to room temperature. Then lift the slice out of the pan using the aluminium foil overhang and cut into squares.
—————————————————–
If you'd like to see more recipes from Starts at 60, click here. And if you have a recipe you'd like to share with the Starts at 60 community – we'd love to share it! Submit them to us by completing the form below.
Submit your article here