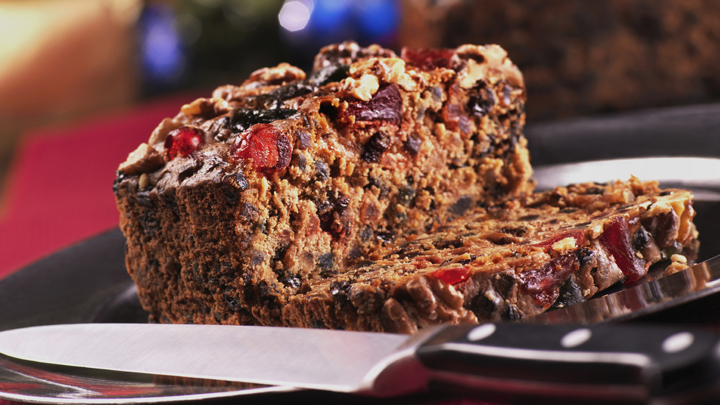 I have been making this since 1986 when I first found the recipe. It's moist and lovely every time. I often make it in 5″ tins, as that size makes a good sized gift for a next door neighbour, or older single person. I use Ruby Port instead of brandy as it gives a good colour, but either works. I wrap in cling wrap, use Xmas ribbon and tinsel and most people just love them.
Something home cooked is a rarity now days. Use a big spoon of marmalade instead of the fruit rinds if desired and I never cook in a square tin as the corners dry out.
Happy cooking!
If preferred, 1 1/4kg mixed fruit can be used instead of the dried fruit listed in the ingredients below. Decorate cake with glace cherries and almonds, before baking, if desired.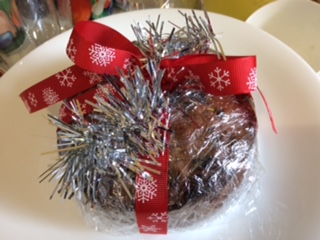 Ad. Article continues below.
Ingredients
375g sultanas
250g raisins, chopped
250g currants
125g mixed peel
125g glace cherries, halved
60g glace pineapple, chopped
60g glace apricots, chopped
250g butter
big pinch mixed spices
1 cup brown sugar, firmly packed
1.2 cup brandy
1.2 cup water
2 teaspoons grated orange rind
1 teaspoon grated lemon rind
1 tablespoon treacle
5 eggs, lightly beaten
1 3/4 cups plain flour
1/2 cup self-raising flour
1/2 teaspoon bicarb soda
Method
Line a deep 23cm round cake tin with 3 thicknesses of greaseproof paper, bring paper 5cm above edge of tin.
Combine fruit, butter, sugar, brandy and water in pan.
Stir over heat until butter is melted and sugar dissolved.
Bring to the boil, reduce heat, simmer, cover, 10 minutes.
Remove from heat, cool to room temperature.
Stir in orange and lemon rinds, treacle and eggs.
Stir in sifted dry ingredients, spread mixture evenly into tin.
Bake in slow oven 2 to 2.5 hours.
Cover hot cake with foil, cool in tin.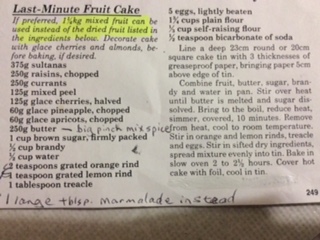 Thanks so much to Virginia Carter for sending through this recipe. If you have a recipe to submit, send it to us here