Lamb meatballs on a bed of zucchini noodles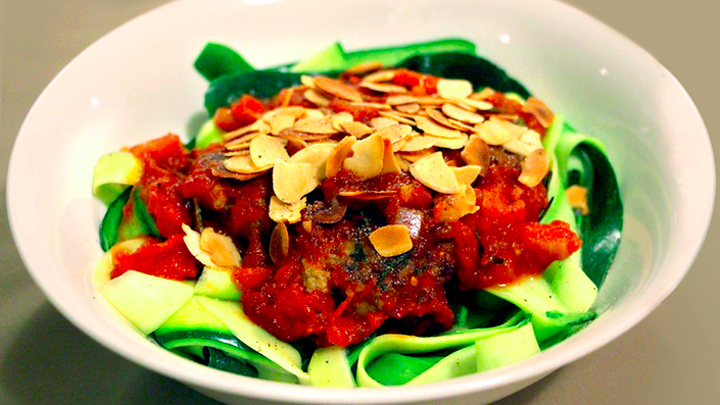 Do you know that full and bloated feeling after eating a whole plate of pasta? Make it a thing of the past by adding zoodles (zucchini noodles) to your dish instead of wheat noodles. They are easy to make, tasty and add colour and flavour to your dinner.
Ingredients
Meatballs
500g lamb mince
2 cloves garlic, crushed
2 eggs
2 teaspoons ground cumin
1 teaspoon smoked paprika
½ teaspoon cinnamon
Pinch cayenne pepper
Several rounds cracked pepper
¼ cup parsley, finely chopped
½ cup breadcrumbs
1 teaspoon olive oil
Ad. Article continues below.
Sauce
1 teaspoon olive oil
½ cup onion, finely diced
2 sprigs rosemary leaves, stalks removed
1 teaspoon ground cumin
¼ teaspoon cinnamon
Pinch cayenne pepper
1 jar passata (700g)
Several rounds cracked pepper
Zucchini Noodles (2 serves)
Ad. Article continues below.
2 zucchinis
Roast flaked almonds to garnish (optional)
Preparation
Mix 1 tablespoon garlic, eggs, cumin, paprika, cinnamon, cayenne pepper, pepper, parsley, breadcrumbs and lamb mince together in mixing bowl. Shape the meat into ping-pong sized balls.
Grease baking dish with olive oil, and put the meatballs onto it, spaced evenly. Place beneath a grill, and cook, turning once, until the meatballs are well browned, approximately 3-4 minutes each side. Turn oven to 200 degrees.
Add oil to saucepan over medium-high heat. Then add onion and cook for 2-3 minutes. Turn heat to low and add rosemary, cumin, cinnamon and cayenne and cook for another 1-2 minutes. Add passata and bring to the boil. Simmer for 10 minutes.
Pour sauce over meatballs in baking dish. Bake for 15 minutes until meatballs are cooked through.
Meanwhile toast almonds in small frypan for 3-4 minutes. Remove and set aside (this step is optional).
Prepare the zucchini noodles. Cut lengthwise slices from zucchini using a vegetable peeler. You could then slice into even thinner strips with a sharp knife or just leave as is.
Bring water to boil in a medium saucepan. Add 'zoodles' and boil gently for 2-3 minutes until just tender. Make sure not to overcook as they will fall apart. Place into serving bowl.
Place meatballs and sauce over zoodles. Top with flaked almonds. Serve. Refrigerate or freeze leftovers.
Ad. Article continues below.
Cooking tips
Adjust cooking time depending on meatball size. Small meatballs will dry out with longer cooking time.
Variations
For a gluten free dish choose gluten free breadcrumbs.
For a vegetarian meal replace mince with tofu mince and reduce cooking time to prevent meatballs from drying out. Replace chicken stock with vegetable stock.
Ad. Article continues below.
What's good about this recipe
This recipe is part of the Wellvess 8-week arthritis program. Our program is packed with delicious anti-inflammatory recipes, cooking tips, latest research on supplements, exercise tips and a forum to connect with others. All recipes have a section like the one below, highlighting the anti-inflammatory properties of the ingredients.
Research has shown that many spices including cinnamon, paprika, coriander, cumin and cayenne pepper possess anti-inflammatory, antioxidant and anti-cancer properties.
Ad. Article continues below.
Rosemary has been found to have anti-bacterial, anti-inflammatory, and anti-oxidant functions. Rosemary extract has also been shown to be beneficial for managing pain as well as inflammation. A study involving patients with osteoarthritis and rheumatoid arthritis who received rosemary-based supplements experienced significant reduction of pain and a decrease in their level of C-reactive protein, a marker for inflammation. Another study evaluated the benefits of rosemary alone in managing arthritis and found that rosemary oil effectively reduced the pain associated with arthritis.
Zucchini noodles are low in kilojoules, add fibre and another serve of vegetables. It's also a great alternative to wheat spaghetti for people following a gluten free or paleo diet.