Lamb and eggplant kofte with couscous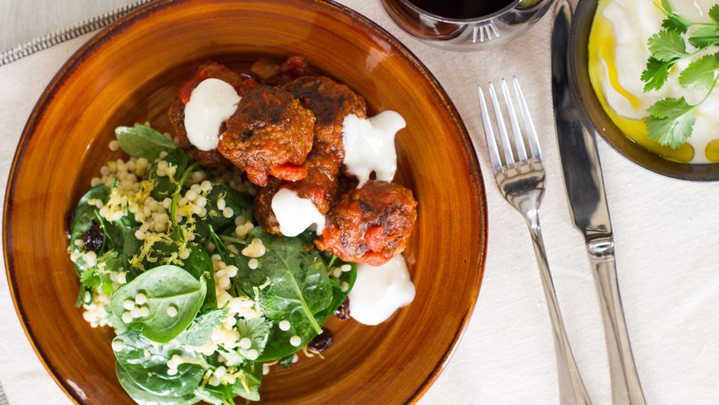 Kofte is a wonderful, spicy food, and although you may not have tried it, it is one you need to!
Here's the best recipe for awesome lamb and egglant kofte that will have you addicted to this middle eastern cuisine.
Ingredients
Kofte balls
1 tablespoon olive oil
1 onion, finely diced
1 eggplant, cut into 1 cm cubes
1 clove garlic, crushed
2 tablespoons lamb kofte spice mix
600g lean lamb mince
cup breadcrumbs
1 egg
1 – 2 tablespoons olive oil, to fry
1x 400g can chopped tomatoes
cup water
Ad. Article continues below.
Israeli couscous
1 cup Israeli couscous
Finely grated zest and juice of 1 lemon
1 tablespoon olive oil
cup raisins
100g baby spinach
cup parsley leaves
cup coriander leaves
cup mint leaves
To serve
Method
Ad. Article continues below.
Bring a medium sized pot of salted water to the boil.
Heat olive oil in a small fry-pan on medium heat. Cook onion and eggplant until soft, about 3 minutes. Add garlic and cook for a further 1 minute
Place the eggplant mixture, spice mix, lamb mince, breadcrumbs and egg in a bowl. Season with salt and pepper and mix well to combine.
Roll mince mixture into small 3cm diameter balls. It should make about 20–25 kofte.
Heat olive oil in a large fry-pan on medium to high heat. Cook kofte until browned all over, about 4–5 minutes. Add canned tomatoes and water, reduce the heat and simmer until the kofte are cooked through, about 5–7 minutes.
While the kofte are cooking, cook the Israeli couscous in boiling water for 6-8 minutes, until just soft. Drain and toss with lemon zest and juice, olive oil, raisins, baby spinach, parsley, coriander and mint. Season with salt and pepper.
Divide Israeli couscous and kofte between plates. Serve with a dollop of yoghurt on the side.
This great recipe was created by MasterChef NZ winner, NZ My Kitchen Rules judge, award winning cookbook author and co-founder of My Food Bag, Nadia Lim.
Recently reaching Australia's shores, Nadia is bringing with her a refreshing 'Nude Food' philosophy that is changing the way Australians approach healthy eating. With the consistent aim of helping people eat in a more nutritious, delicious way by getting back to basics and stripping away the distractions of food fads, diets and marketing hype, Nadia's down-to-earth, simple approach to healthy eating is accessible to everyone.
Her latest book Cook Healthily, Lose Weight  is due for release in September and can be pre-ordered here.