How to use your leftover Christmas meat for a new meal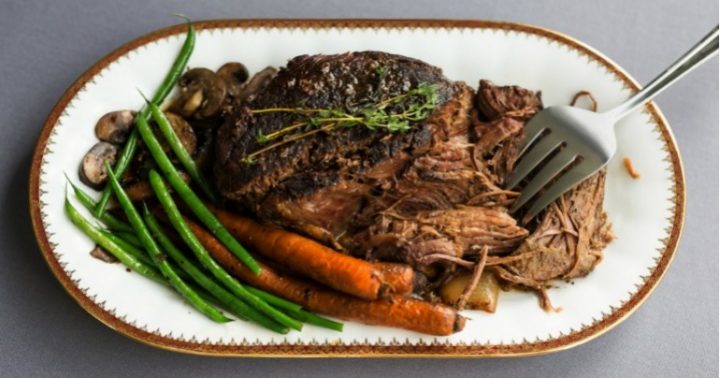 Cooking up a Christmas roast is a time-honoured tradition, but often we end up with leftover meat in the end that we have to figure out some creative way of using.
Instead of resigning yourself to carving off a couple of boring slices every day for the rest of the week though, repurpose those leftovers into a brand new delicious meal that'll save you plenty of time and money in the kitchen.
It doesn't matter what meat you're working with, there's a recipe for all of them and they're all absolutely spot on when it comes to flavour and getting the most out of your meal.
Chicken and leek pasta bake
This creamy pasta uses leftover roast chicken to create a delicious pasta bake that'll have you going back for seconds every time.
Ad. Article continues below.
Ingredients
Meat from 1 cooked chicken breast, shredded
Meat from 1 cooked chicken leg, shredded
2 leeks, cleaned and finely chopped
3 spring onions, finely chopped
1 garlic clove, chopped
300ml of creme fraiche
1/2 cup frozen peas
juice of half a lemon
1 tbsp Dijon mustard
1 tsp olive oil
6 nests of tagliatelle
Salt and freshly ground pepper
Grated Parmesan, for topping
Method
1. In a large frying pan or saute pan, heat the olive oil and gently cook the leeks, spring onions and garlic until soft. Add the cooked chicken and heat through, add the frozen peas and set aside.
2. Cook the tagliatelli in a pan of boiling water until just cooked. Drain, leaving a little of the cooking water in the pan and set aside.
Add the creme fraiche, mustard and seasoning to the leek and chicken mixture and season to taste.
Ad. Article continues below.
3. Mix the chicken mixture through the pasta and pile into an ovenproof dish, sprinkle over the grated cheese and put in an oven at 200C for about 10 minutes until brown and bubbling.
Beef casserole
Give your roast beef new life with this tasty English casserole topped with a layer of slice potatoes and cheese.
Ingredients
475g Potatoes, thinly sliced
350g cold roast beef, chopped into 1cm pieces
2 onions, medium sized, finely chopped
75g mushrooms, finely chopped
1 x 420g tin of baked beans
200g chopped tomatoes (half a tin)
1 tsp gravy powder
1 tsp Worcester sauce
1 tsp flour
100g Cheddar cheese, grated
Salt and freshly ground pepper
Ad. Article continues below.
Method
1. Pre-heat oven to 190°C. Par-boil the potato slices in a pan of boiling water for 5 minutes. Mix all the other ingredients together except the Cheddar. Put in a dish and cover with potato slices.
2. Bake in oven for 30 minutes and then cover with grated Cheddar. Return to oven for 10 minutes until the cheese has melted. Serve with a green vegetable of your choice.
Chicken stock
One of the best things you can do with a leftover chicken carcass is make your own stock. You can store it in the freezer and pull it out whenever you're cooking soup, risotto or anything else you might need it for. There are no real measurements needed for stock so just had a couple of handfuls of the veggies each.
Ad. Article continues below.
Ingredients
Leftover bones and skin from a cooked or raw chicken carcass
Celery (especially celery tops)
Onions
Carrot
Parsley
Salt
Pepper
Method
1. Put the leftover bones and skin from a chicken carcass into a large stock pot. Add vegetables like celery, onion, carrots, parsley. Cover with water. Add salt and pepper, about a teaspoon of salt, 1/4 tsp of pepper.
2. Bring to a boil and immediately reduce heat to bring the stock to barely a simmer. Simmer partially covered at least 4 hours, occasionally skimming off any foam that comes to the surface.
Ad. Article continues below.
3. Remove the bones and vegetables with a slotted spoon, and strain the stock through a fine mesh sieve.
4. If making stock for future use in soup you may want to reduce the stock by simmering an hour or two longer to make it more concentrated and easier to store.
Pork fried noodles
Turn your roast pork into a lovely Asian dish with skinny noodles and ginger.
Ingredients
Ad. Article continues below.
150g leftover higher-welfare roast pork
2 cloves of garlic, finely chopped
3cm piece of ginger, finely chopped
1 bunch of spring onions, finely sliced
50g frozen peas
2 tablespoons peanut or sunflower oil
1 chilli, chopped
300g ready-prepared rice vermicelli
1 lime
Method
1. Shred or roughly chop the pork. Boil some water in a small pan and add the peas, then bring the water back to the boil. By this stage the peas should be defrosted. Drain and refresh with cold water.
2. Pour oil into a large frying pan add garlic, ginger, spring onion, and cook for a couple of minutes. Stir in chilli and cook for a couple more minutes. Add the noodles, pork and peas to the pan and heat through, stirring well. Squeeze over the lime, toss together well, then serve.
Lamb filo pie
Ad. Article continues below.
Don't be put off by the long list of ingredients with this one – most of them are kitchen staples that you likely already have in your fridge or cupboard. The lamb takes on new life here with the filo adding a crunchy topping. Serve with a dollop of natural yogurt and a squeeze of lemon.
Ingredients
2 sticks of celery, trimmed, sliced
2 leeks, trimmed, sliced
2 onions, finely diced
3 cloves of garlic, finely diced
1 kg leftover roast lamb
75g unsalted butter, plus extra (melted) for greasing and layering
3 tablespoons olive oil
500g potatoes, peeled, diced, parboiled
180g long grain rice, cooked halway though
½ a bunch of fresh flat-leaf parsley, leaves finely chopped
300g feta cheese
60g currants or raisins
½ tablespoon ground cinnamon
1 tablespoon dried oregano
1 tablespoon dried mint
2 x 270 g packets of filo pastry
Method
1. Heat the butter and oil in a frying pan and sauté the celery, leeks, onions and garlic for 5 to 7 minutes, or until softened. Add the leftover lamb and cook, stirring occasionally, for 2 to 3 minutes. Transfer to a bowl and set aside to cool.
Ad. Article continues below.
2. Preheat the oven to 180ºC/gas 4. Lightly grease a shallow 30cm x 40cm roasting dish. When the lamb mixture has cooled, crumble in the feta and add the currants or raisins, potato, rice, cinnamon, oregano, mint and parsley and mix well. Set aside.
3. Lay 1 sheet of filo in the roasting dish and brush with melted butter. Repeat until you have used all of 1 packet. Spread the lamb filling over the pastry, then top with the hard-boiled egg quarters, lining them up in 4 rows. Place 1 sheet of filo from the second packet of pastry on the filling, brush with melted butter and continue layering until you've used all the pastry.
4. Cut the lamb pie into 16 squares. Drizzle over a little cold water and bake in the oven for 1 hour, or until the top is golden and the pie cooked through. Allow to cool slightly before serving.
Individual pot pies
You can make gorgeous pot pies using whatever roast meat you have leftover. You don't even need a recipe for this one – just make it up as you go along. That's the beauty of cooking with leftovers anyway!
Cook up a batch of veggies, like potatoes, carrots, peas and garlic and add herbs like rosemary or thyme. Use stock and leftover gravy to make the sauce, add meat and spoon filling into ramekins. Top with puff pastry or mashed potatoes and bake in oven until golden and cooked through.
What do you do with your leftovers? What meat will you be cooking this Christmas?