How could Iced VoVos get any better? Check out this cake....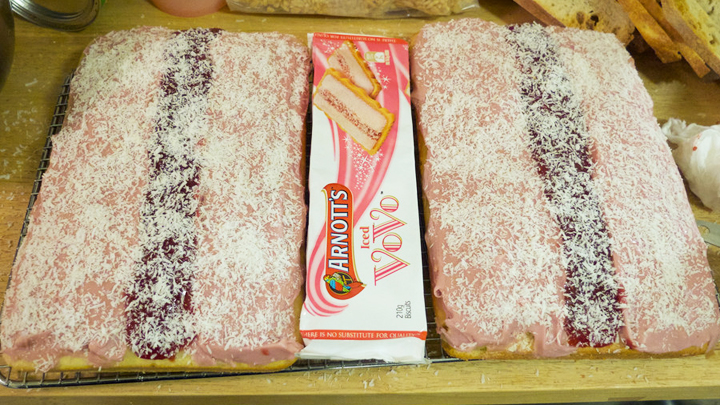 The Arnott's Iced VoVo is a classic biscuit and one that's been around at morning teas across the country for years. We know it as the humble plain biscuit with pink icing, jam in the middle and coconut on top, but did you know that this simple formula makes a great cake?
It's a super easy recipe and one that will definitely get the wow factor when you present it at your next morning tea or family gathering!
Serves 10
Ingredients
Melted butter, to grease
1.5 cups (275g) self-raising flour
1/2 cup (75g) plain flour
1 cup (220g) caster sugar
150g unsalted butter, cubed
2/3 cup (155ml) milk
3 eggs, at room temperature
1 tsp vanilla extract
pinch of salt
Ad. Article continues below.
For the icing:
2 cups icing sugar, sifted
125g unsalted butter
1.5 cups white or pink marshmallows
pink food colouring
1/2 cup strawberry jam, whisked until smooth
1/2 cup desiccated coconut
Method
Preheat oven to 140°C. Brush a 17 x 27cm rectangular tin with the melted butter to lightly grease. Line base and sides with baking paper.
Place the self-raising flour, plain flour, sugar, butter, milk, eggs and vanilla essence in a large mixing bowl and mix until just combined. Beat for 1-2 minutes more or until the mixture is thick and all the butter is incorporated. Spoon the mixture into the pan and smooth the surface with the back of a spoon. Bake in preheated oven for 40-50 mins or until a skewer inserted into the centre of the cake comes out clean. Remove from oven and set aside for 10 minutes. Turn onto a wire rack for 30 minutes or until completely cool.
To prepare the icing, remove butter from the fridge 30 mins before starting. Place butter and icing sugar in a large mixing bowl and beat until light and fluffy. Add pink food colouring to lightly tint pink. Place marshmallows in a large microwave safe bowl and heat in microwave for about 30 seconds to a minute, enough to cause it to expand and melt the whole way through. Transfer melted marshmallows to the mixing bowl and beat until smooth.
Spread the mixture over the top of the cooled cake, leaving a gap in the middle for the jam. Spread jam down the middle of the cake, then sprinkle coconut over the icing and jam.