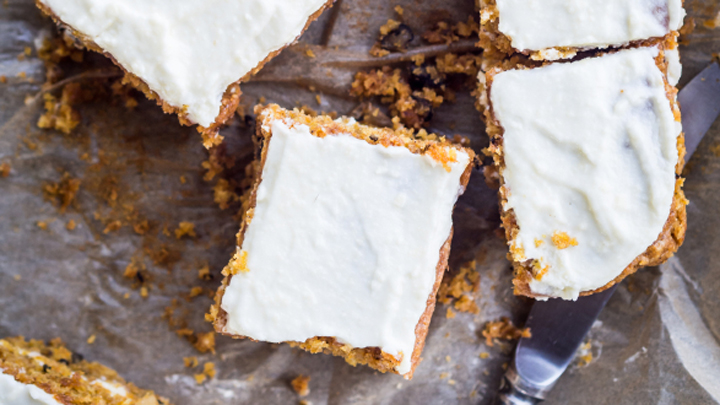 This honey and spice cake is perfect with a cup of tea. It's warmly spiced and very moist. The punchy flavours and sweet icing will leave you and your friends wanting more.
Ingredients
Makes 15 pieces
75g honey
225g (1 1/2 cups) plain flour
1 tsp ground ginger
1 tsp ground cinnamon
1/4 tsp ground cloves
75g golden caster sugar
Finely grated zest of 1 orange
Finely grated zest of 1 lemon
110g butter, chopped into small pieces
1 large egg, beaten
1 tsp biocarb soda
50g mixed peel, finely chopped
175g icing sugar, sifted
1 tablespoon lemon juice
6 pieces crystallised ginger, chopped
Ad. Article continues below.
Method
Cooking time: 50 minutes
Preheat oven to 170C and grease 20cm square cake tin; line with baking paper.
Warm honey slightly by placing it in a cup and sit it in a saucepan containing a little simmering water. Do not overheat.
Sift the flour and spices into a large bowl. Add the sugar, orange and lemon zest; stir to combine. Add the butter and rub in lightly using your fingertips until the mixture resembles breadcrumbs.
With a large fork, gently mix in the egg, then the warm honey.
Dissolve the biocarb soda with 3 teaspoons water and add to mixture. Beat well until mixture is smooth and soft. Stir through the mixed peel.
Spoon mixture into prepared tin and spread out evenly. Bake for 50 minutes, until well risen. Leave cake in tin for 10 minutes then turn out onto a wire rack to cool completely.
For the icing, combine the icing sugar, lemon juice and 1 teaspoon warm water. Pour icing over cold cake; let it run down the sides. Please the ginger on top and serve cake.
Tell us, do you like baking? What do you like to have with your afternoon tea?