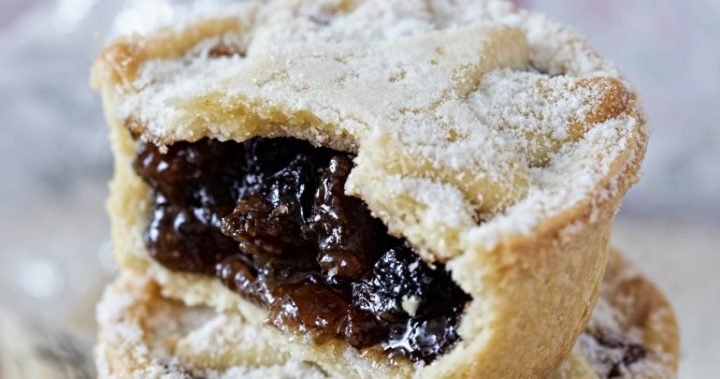 It wouldn't be Christmas without mince pies! These little beauties taste even better than the store-bought version – and not just because you've lovingly made them with your own hands! The shortcrust pastry is perfectly soft and crumbly, with the filling steals the show with plenty of fruit and spices to create the most delicious mince. Use a splash of sherry or brandy in the mix to really bring that Christmassy feel, or substitute with orange juice if you need something non-alcoholic. Serve them warm out of the oven or heat them up a little in the microwave and serve with cream, custard, or ice cream. YUM!
Ingredients
Unsalted butter, for greasing
Plain flour, for dusting
375g shortcrust pastry
200g fruit mince
Splash of brandy, sherry or orange juice
½ an apple, peeled and chopped into small chunks
50 dried ginger, finely chopped
75g dried cranberries
50g dried apricots, finely chopped
A pinch of mixed spice
1 large free-range or organic egg
1 tablespoon milk
Icing sugar, for dusting
Method
1. Preheat oven to 180C and grease a shallow cupcake tray with butter. Dust a clean surface and rolling pin with flour, then roll half the pastry out to 2-3ml thick. Carefully cut out 12 circles with a pastry cutter or a clean glass, then lay them in the tray and place in fridge to chill for 30 minutes.
Ad. Article continues below.
2. Meanwhile, spoon fruit mince into a mixing bowl, breaking up with a spoon as you go. Pour in brandy, sherry or orange juice, then add apple, ginger, dried fruits and mixed spice, then mix well.
3. Roll out remaining pastry to same thickness. Using smaller cutter than before, cut out another 12 circles – these will be the lids for your pies.
4. Take pastry bases out of fridge and fill just over halfway with mincemeat, then smooth filling out to edges. Beat egg and milk together, then brush over the top edges of pastry. Lay lids on top, then crimp edges together with your thumb and forefinger so the lids stick to the bases. Brush top once more with egg wash.
5. Bake in oven for around 25 minutes, or until pastry is cooked through and golden on top. Dust with icing sugar before serving.
—————————————————–
If you'd like to see more recipes from Starts at 60, click here. And if you have a recipe you'd like to share with the Starts at 60 community – we'd love to share it! Submit them to us by completing the form below.
Submit your article here