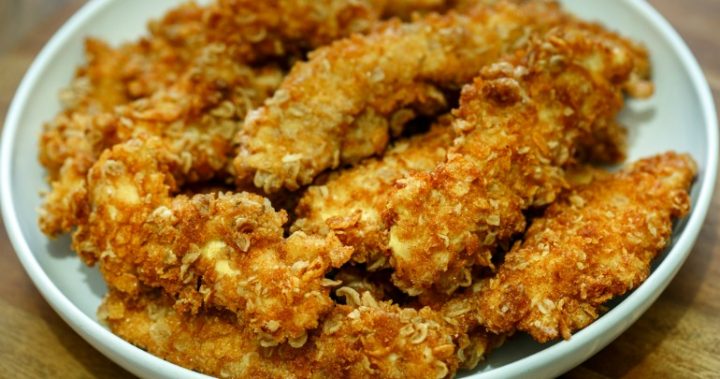 Okay let's lay it out there: this is not a healthy recipe. But it sure is a tasty one! Since you can't be good every day of the week you might as well dig in and get your fingers on this delicious homemade fried chicken. You can use any cut of chicken you like, but drumsticks or tenders work best. The end result is super crunchy, super tasty and sure to have you going back for more. You can serve it with a range of side, but a simple salad and some homemade potato wedges really hit the spot. YUM!
Ingredients
6 chicken drumsticks
1/3 cup chilli sauce, plus extra to serve
1 egg yolk
1½ cups panko breadcrumbs
½ cup grated parmesan
¾ teaspoon cayenne
Oil spray
Method
1. Line a large roasting pan with foil and place rack into the pan.
Ad. Article continues below.
2. Pat chicken dry with paper towel. Mix chilli sauce with egg yolk. Combine breadcrumbs, parmesan and cayenne in a shallow bowl. Brush chilli sauce mixture over chicken, then coat with crumb mixture, pressing on firmly. Chill for 30 minutes or overnight.
3. Preheat oven to 220°c. Lay drumsticks onto rack in pan, leaving space between so air can circulate. Spray well with oil. Roast for 40 minutes, turning halfway through cooking, or until chicken is browned and cooked through. Serve with extra chilli sauce, mayonnaise and lemon.
—————————————————–
If you'd like to see more recipes from Starts at 60, click here. And if you have a recipe you'd like to share with the Starts at 60 community – we'd love to share it! Submit them to us by completing the form below.
Submit your article here