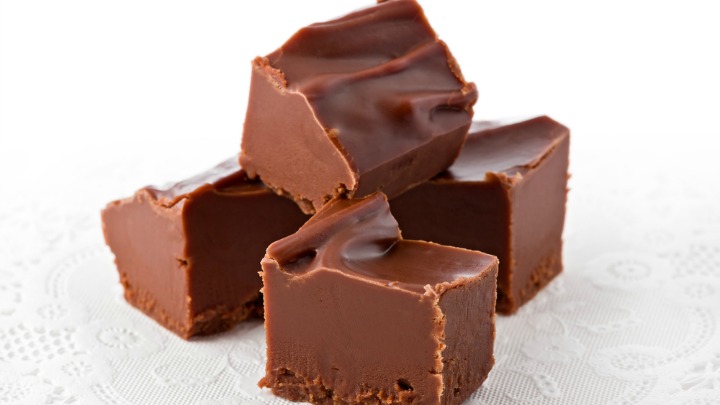 Fudge seems to be one of those 'you either love it or hate it' desserts. Those who love it can easily devour a whole slab in one go, while for others it's just a bit too sweet. Anyone on that side of the camp, listen up. This version is perfectly balanced by using dark chocolate, vanilla beans and a little honey instead of piling in more sugar. The end result is smooth, creamy and oh-so delicious. It's great to pull out when you have company at home or wrap it up and give away as a gift whenever you want to offer something a little more personal. Enjoy!
Ingredients
345ml pure (thin) cream
2 vanilla beans, split, seeds scraped
250g caster sugar
90g liquid glucose
225g unsalted butter, chopped
35g honey
1 tsp salt
1/2 tsp bicarbonate of soda
110g good-quality dark chocolate, finely chopped
Method
1. Grease and line a 18cm x 25cm rectangular pan by spraying it with oil spray and lining the base and sides with a piece of baking paper. Place the cream and vanilla bean seeds in a saucepan over medium heat and bring to the boil. Remove from the heat, cover and keep warm.
Ad. Article continues below.
2. Place the sugar, glucose and 50ml water in a large saucepan and heat to 145°C. (If you don't have a thermometer, use a teaspoon to take a small amount of the sugar syrup and drop it into a bowl of chilled water. If it is the correct temperature, it will separate when it hits the water into hard, but pliable, threads that will bend slightly before breaking.)
3. When at the correct temperature, immediately whisk in the butter and honey by hand. Whisking continuously, pour in the warm cream, in two or three stages, to prevent the temperature of the sugar from dropping below 110°C. Add the salt and bicarbonate of soda, and whisk to combine. Reheat mixture over medium heat, while stirring, for 20 minutes or until it reaches 119°C. (If you don't have a thermometer, drop a small amount into a bowl of chilled water and it should be a rm but pliable texture.)
4. Once it reaches temperature, whisk in the dark chocolate vigorously, until completely melted, to ensure that the sugar crystallises to create a fudge texture when set. Pour immediately into your prepared pan. Set aside at room temperature for approximately 5 hours to set. Use a lightly oiled knife to cut the fudge into 3cm squares.
—————————————————–
If you'd like to see more recipes from Starts at 60, click here. And if you have a recipe you'd like to share with the Starts at 60 community – we'd love to share it! Submit them to us by completing the form below.
Submit your article here