Homely and delicious beef ragu with semolina gnocchi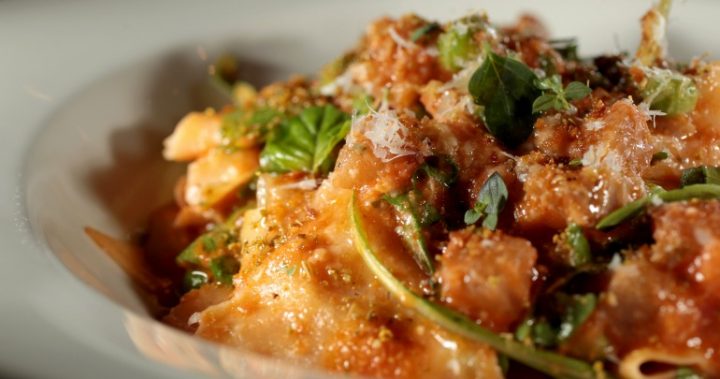 It's hard to beat a hearty home-cooked meal in the run-up to Christmas – and you can't go wrong with this easy-to-make dish.
The cheesy golden-baked gnocchi perfectly compliments the flavour of the mince, and makes it a stand-out favourite for either a small family dinner or a bigger party.
With a dash of red wine, and some vegetable goodness, it's a guaranteed favourite for all. Tuck in!
Ingredients
4 cups milk
1 cup semolina
2 egg yolks
1/2 cup grated parmesan
1 tbsp olive oil
1 onion (finely chopped)
1 carrot (peeled and finely chopped)
2 celery sticks (finely chopped)
2 crushed garlic cloves
1kg beef mince
1/4 cup dry red wine
690g jar passata (or fresh tomato puree)
Method
Line a baking dish measuring approximately 20cm x 30cm with baking paper.
Boil the milk on a high heat before letting it simmer on medium heat once boiling, before slowly adding the semolina in a steady stream – stirring for around 3 minutes or until it softens.
Remove from heat once the mixture begins to thicken and add egg yolks, half the parmesan and seasoning.
Pour the mixture into the dish, smoothing the surface, and leave in the fridge for approximately 30 minutes.
As it cools, grease a 1.5l ovenproof dish ready for the main ingredients.
Heat the oil in a large frying pan and add the onion, carrot, celery and garlic – stirring for around 5 minutes or until the onion is tender.
Add the mince, breaking it up and stirring it for around 5 minutes or until the meat has browned off. Add the red wine and bring it to the boil.
Finally add the passata and keep stirring and cooking for around 15 minutes, or until it begins to thicken slightly, before transferring to the greased dish.
Preheat oven to 200C.
For perfect rounds, use a 5cm (or your preferred size) round cutter to cut discs from the semolina mixture.
Gently place over the beef mixture and sprinkle the rest of the parmesan on top.
Bake for 20 minutes or until the dish is golden brown and heated all the way through.
This dish is perfect served with some mixed salad on the side, and you can add thyme leaves for an extra touch.