Home-made healthy chickpea falafel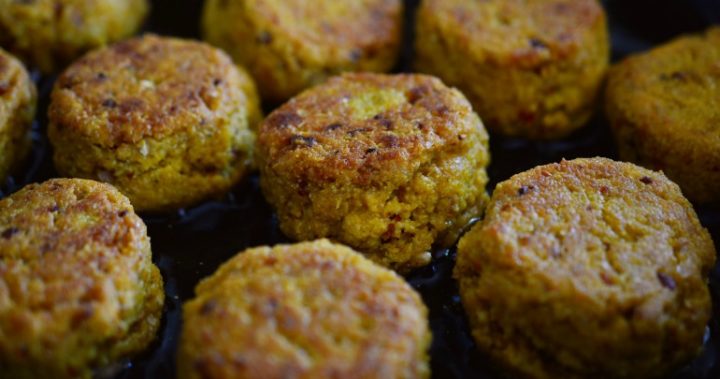 Falafels are a tasty gluten-free and vegetation option and this delicious version was shared with us by SAS community member Tony Stott.
This home-made recipe includes a simple chickpea mixture, flavoured with exotic Middle Eastern spices. They're easy to whip up and go great as a snack on their own or wrapped in pita bread with salad and a drizzle of tahini sauce. Keep any leftovers in the fridge and enjoy throughout the week!
Ingredients
500g dry chickpeas (soak overnight in cold water)
2 onions
2 garlic clothes, chopped
1 cup parsley, chopped
1 tsp ground cumin
1 tsp coriander seeds
1 tsp baking powder
Olive oil for frying
Method
Soak chickpeas in cold water overnight. Drain well.
Place half of chickpeas (250g), one onion, one garlic clove and 1/2 cup parsley in food processor, to a fine paste. Place in a small bowl.
Place the rest of chickpeas, onion, garlic clove and parsley in food processor, to be a bit coarse. Mix into the small bowl.
Then add, cumin, coriander, baking powder and salt and pepper to taste.
Using floured hand, shape mixture into small rissoles.
Fry in olive oil, over medium-high heat until golden. Drain on paper towel and enjoy!