Hearty slow cooker beef bourguignon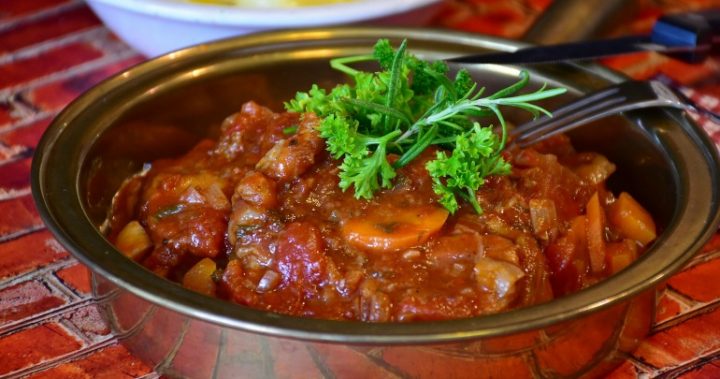 This meal couples beautiful tenderised meat with hearty flavours to create a dish that the whole family will enjoy.
All the classic beef bourguignon ingredients are here with red wine, chicken broth and a splash of soy sauce creating that show-stopping flavour.
As with all slow cooker dishes, it's important to sear your meat first to really get the cooking process started and those caramelised flavours flowing. Once that's done and your sauce is made, throw your beef and the rest of your ingredients into the slow cooker and sit back while the magic happens.
This dish is great by itself or paired with pasta and crusty buttered bread. Dig in!
Ingredients
5 slices bacon, finely chopped
1360.78 g boneless beef chuck, cut to 2.5cm cubes
1 cup red cooking wine
2 cups chicken broth
½ cup tomato sauce
¼ cup soy sauce
¼ cup flour
3 garlic cloves, finely chopped
2 tbsp thyme, finely chopped
5 medium carrots, sliced
500g baby potatoes
225g fresh mushrooms, sliced
Fresh chopped parsley for garnish
Method
Heat oil in large fry pan over medium-high heat and cook bacon until crisp.
Place cooked bacon in the slow cooker.
Coat the beef in salt and pepper and then sear meat in the frying pan for 2-3 minutes.
Place seared beef in the slow cooker.
Add red wine to the frying pan and simmer.
Slowly reduce the heat and add chicken broth, tomato sauce, and soy sauce.
Once mixed, whisk in the flour and add the finished sauce to the slow cooker.
Add garlic, thyme, carrots, potatoes and mushrooms to the slow cooker. You can add more vegetables if you wish.
Cook the dish in the slow cooker on low for 8-10 hours.
Garnish with herbs and serve with mashed potato, pasta or rice.