Hearty Irish stew with lamb and herbs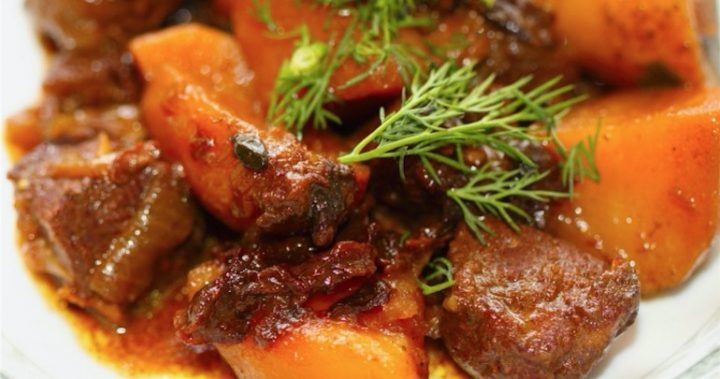 This classic recipe is one that is sure to bring a smile to any guest's face. The rich sauce and tender lamb burst with flavour, while the onions and creamy potatoes balance out the stew and help create that memorable rustic flavour.
This is a great meal to make in bulk and freeze for later — it seems to taste even better the next time around!
If you really want to get creative with leftovers, you can put a scoop between two slices of bread and toast in a jaffle maker!
Ingredients
1/2 cup plain flour
1.25kg lamb neck chops, trimmed
3 brown onions, chopped
1kg potatoes, peeled, sliced
2 carrots, peeled, thinly sliced into rounds
2 tbsp tomato paste
3 cups boiling water
3 beef stock cubes, crumbled
1 cup flat-leaf parsley leaves, chopped
1/4 cup mint leaves, chopped, to serve
Method
Combine flour, salt and pepper in a bag.
Cut chops in half and add them to bag. Shake the bag to coat chops evenly with flour mixture.
Remove chops and put aside remaining flour.
Preheat oven to 130°C.
Add onions, potatoes, and carrots to an ovenproof dish, then top with half the chops. Repeat this again to form 4 layers.
In a bowl, mix together leftover flour, tomato paste and 2 tbsp of water using a whisk.
While still whisking, slowly add boiling water, then add parsley and stock cubes. Mix until the stock cubes are dissolved.
Pour flour mixture over chops, cover and cook in oven for 4 hours.
When cooked, garnish with mint and serve.
Serve with some rustic, buttered bread!