Healthy strawberry and oatmeal slice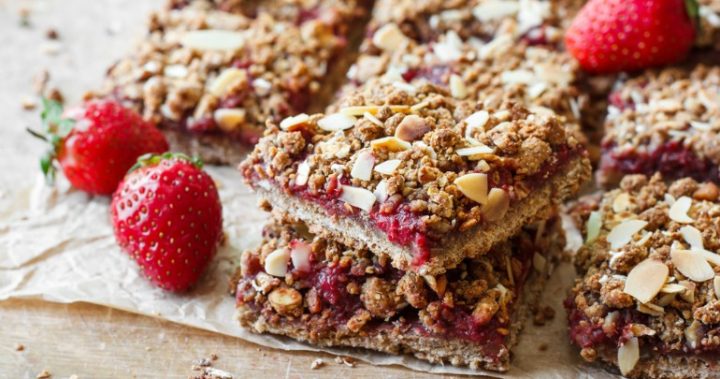 This strawberry and oatmeal slice is far healthier than your average slice, but will help to soothe that sweet tooth when it pops up!
Perfect for afternoon tea or breakfast on the run, and you can leave the glaze out if you'd like to make it even healthier!
Ingredients
1 cup old-fashioned rolled oats
3/4 cup white wholemeal flour
1/3 cup light brown sugar
1/4 teaspoon ground ginger
1/4 teaspoon sea salt
6 tablespoons unsalted butter, melted
2 cups strawberries, finely chopped
1 teaspoon cornflour
1 tablespoon lemon juice
1 tablespoon granulated sugar, divided
1/2 cup icing sugar, sifted
1/2 teaspoon vanilla extract
1 tablespoon milk
Method
1. Preheat oven to 190C and line a 20 x 20cm slice tin with nonstick baking paper.
2. In a large mixing bowl, mix together the oats, flour, brown sugar, ginger, and salt. Add the melted butter and stir until crumbly and evenly combined. Set 1/2 cup of the mixture aside, then press the rest firmly into the bottom of the lined slice tin.
3. Layer half of the strawberries over the crust, then sprinkle evenly with the cornstarch then the lemon juice and 1/2 tablespoon of the granulated sugar. Add the remaining strawberries and the remaining 1/2 tablespoon sugar. Sprinkle the remaining crumble mixture evenly over the top.
4. Bake for 35-40 minutes, then allow to cool completely on a wire rack.
5. Whisk together the powdered sugar, vanilla, and milk until smooth. Drizzle the slice with the glaze, cut into squares, and serve.