Healthy mushroom risotto with cauliflower rice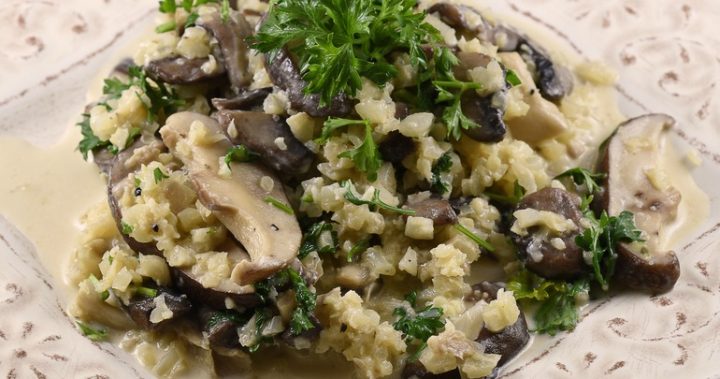 Risotto is one of those dishes that is a guaranteed winner. You'd be pretty hard-pressed to find a person who hates it, it's simple to make, you can make it with whatever ingredients you have on hand, and it's warming, filling, and delicious!
This healthy mushroom version is even better, because it doesn't involve standing around continuously stirring rice while it cooks.
Even better, it's super healthy too! If you're trying to cut down on starchy, carb-loaded foods, substituting your rice for cauliflower is an excellent option. It's not only healthy, it truly tastes amazing as well. Once you've tried cauliflower rice, you won't go back.
Ingredients
1 large head cauliflower, cut into florets
1 tablespoon oil
1 large onion, diced
2 garlic cloves, crushed
400g mushrooms, thinly sliced
½ cup beef stock
Fresh parsley, chopped
Salt and pepper, to taste
Method
1. Pulse cauliflower florets in a food processor until it reaches a rice-like consistency.
2. Heat oil in a large frypan or wok over medium heat and add onions. Cook for about 5 minutes or until tender and caramelised. Add garlic and stir for a minute before adding mushrooms. Cook, stirring, until browned.
3. Add cauliflower and beef stock and reduce heat to a simmer. Cook for about 10 minutes, or until cauliflower has absorbed the stock and is tender, but not mushy.
4. Add salt and pepper to taste, and garnish with parsley to serve.