Healthy-ish butternut squash risotto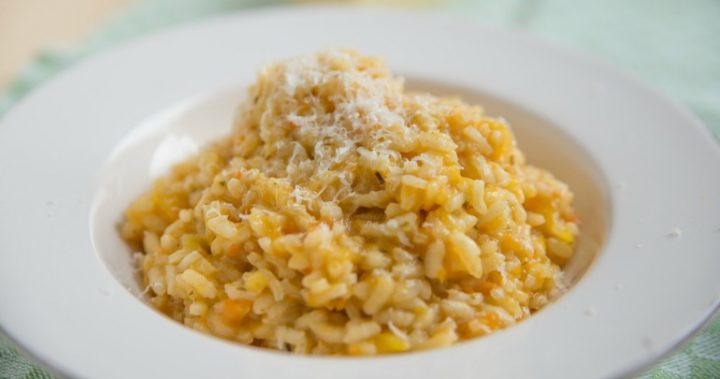 Risotto is one of the comfort dishes that is ever so tasty, but not something we eat all that often because of those sneaky calories hiding in all that cheesy goodness. This version adds in a few healthy extras to make that indulgence a little more healthy and just as tasty as ever! Butternut squash (sometimes known as butternut pumpkin) brings a lovely veggie hit, while the cannellini beans brings a nice big hit of flavour and fibre. Of cause there's still plenty of cheesy deliciousness there thanks to the parmesan cheese!
Ingredients
1 butternut squash, peeled, seeded, and cubed
Salt and black pepper, to taste
1/4 cup extra-virgin olive oil
1 onion, diced
1 small tomato, diced
450g Arborio rice
1/2 cup white wine
1 teaspoon dried marjoram
1 teaspoon dried oregano
1 teaspoon dried basil
8 cups chicken stock, or more as needed
400g can cannellini beans, drained
1/4 cup grated Parmesan cheese
3 tablespoons chopped fresh parsley
Method
1. Season butternut squash cubes with salt and black pepper. Place a steamer insert into a saucepan and fill with water to just below the bottom of the steamer. Cover and bring water to a boil. Add butternut squash, cover, and steam until just tender, 10 to 12 minutes depending on thickness. Transfer squash to a bowl and mash.
Ad. Article continues below.
2. Heat olive oil in a frying pan over medium heat. Cook and stir onion until softened, 3 to 5 minutes. Stir tomato into onions until onions become translucent, 3 to 5 more minutes. Add Arborio rice to pan and stir to coat with oil; cook and stir until rice becomes translucent with a white spots in the middle of each grain, about 2 minutes.
3. Stir white wine into rice mixture; cook and stir until wine is completely absorbed, 2 to 4 minutes; add marjoram, oregano, and basil. Pour chicken broth into rice mixture, about 1/2 cup at a time, stirring until liquid is absorbed, until rice is creamy but firm to the bite, 20 to 25 minutes. Stir squash into rice mixture until fully incorporated. Remove from heat.
4. Stir cannellini beans, Parmesan cheese, and parsley into risotto until cheese is melted. Season with salt and black pepper.
—————————————————–
If you'd like to see more recipes from Starts at 60, click here. And if you have a recipe you'd like to share with the Starts at 60 community – we'd love to share it! Submit them to us by completing the form below.
Submit your article here