Wholesome and hearty potato moussaka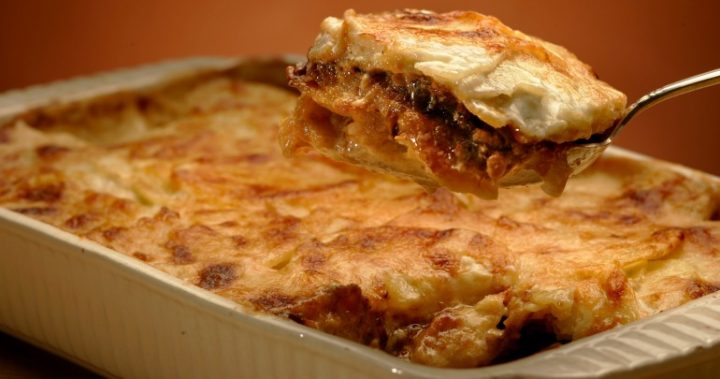 Keeping your diet healthy and tasty throughout the hot summer days can be difficult, but this simple and hearty recipe is guaranteed to be a family favourite at dinner time.
With fluffy potatoes, sweet vegetables and juicy beef mince, the potato moussaka takes all the best bits of classic family meals, and combines them into one dish. Going back centuries, it's been a favourite through the generations, so why not spice it up a bit?
Adding fresh eggplant with cinnamon and oregano gives it an extra kick in just a few easy steps. So why not impress everyone round the table, whatever the weather?
Go on, tuck in!
Ingredients
3 large potatoes, peeled
500g lean beef mince
2 eggplant, cut into 1cm-thick rounds
1/4 cup olive oil
1 large red onion, diced
2 crushed garlic cloves
1 medium red capsicum, diced
2 small carrots, peeled and diced
1 tsp ground cinnamon
4 tomatoes, diced
1 tbsp chopped oregano
75g butter
1/4 cup plain flour
3 cups milk
1 egg, lightly beaten
Method
Preheat grill on high.
Boil potatoes in large pan for 20 minutes, until tender.
Brush all sides of eggplant with 2 tbsp olive oil and grill in batches for 2-3 minutes on each side, until golden. Leave to cool.
Heat remaining oil in saucepan on medium heat. Add capsicum, onion, garlic and carrots and cook until tender.
Add mince and continue to cook for around 10 minutes, until browned.
Add tomatoes and cinnamon with 1 cup of cold water, and cook for 25 minutes, stirring throughout, until thickened.
Stir in oregano and leave to cool.
Heat butter in smaller saucepan on medium heat until boiling slightly. Add flour and stir for 1-2 minutes.
Remove from heat and slowly add milk, whisking until smooth sauce.
Return to heat and keep stirring for around 10 minutes until sauce thickens.
Season with salt and pepper before leaving aside to cool.
Whisk egg in to sauce until completely combined.
Preheat oven to 180°C, and cut potatoes into 1cm-thick rounds.
Spread half the eggplant across bottom of baking tray in one layer, before topping with half the mince and all the potatoes.
Spread rest of mince over potatoes and top with leftover eggplant.
Finally pour sauce over the top and bake for 40 minutes or until golden brown.
This is perfect served with a fresh side salad.