Healthy and delicious carrot cake is a winner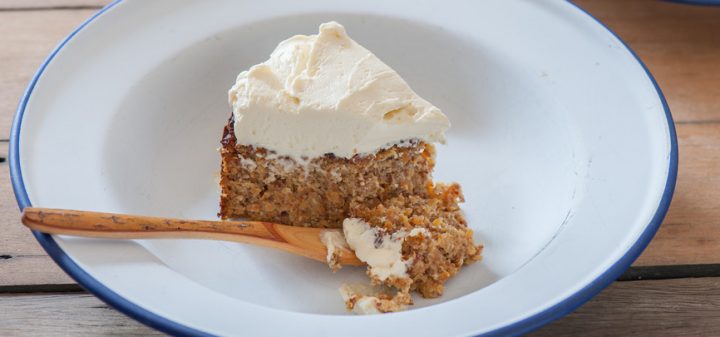 One of the best sweets for dessert, if guests drop by, or even just with your afternoon cup of tea is carrot cake. The problem is that most of them are just full of fat and sugars. Removing them doesn't mean that you have to remove the incredible flavour or fun of the original carrot cake.
Prep Time: 15 min – Cook Time: 35 min – Total Time: 50 min
Serves 6
Stuff you need
For the cake
1 cup almond meal
3/4 cup walnuts, chopped
3/4 cup butter melted
1/4 cup coconut milk
2 carrots peeled and grated
2 eggs
1 tsp. cinnamon
1 tsp. nutmeg
Pinch of salt
Ad. Article continues below.
For the frosting
1 1/2 cups unsweetened shredded coconut
1/2 cup butter cubed
1 lemon juice and rind
1 tsp. 100% vanilla extract
Now what
Preheat oven to 160°C (320°F) and line 2 x 10 cm (4 inch) spring form cake tins. Or you can use 1 larger cake tin.
In a large bowl combine the almond meal, walnuts, cinnamon, nutmeg and salt.
Add the eggs, melted butter, coconut milk, carrots and stir really well.
Fill the cake tins with the cake batter and place in to the oven for 35 minutes.
Allow to sit for 10 minutes before turning out and allowing to cool completely on a wire rack.
Meanwhile, let's make the frosting!
In your blender or food processor whiz the coconut until super fine.
Add the butter cubes and continue to whiz, it should be getting smooth.
Add the lemon juice, rind as well as the vanilla and continue to whiz.
Once the cakes have cooled, spread frosting on top of both cakes evenly, the carefully place one cake on top of the other.
Sprinkle with a few extra walnuts!
Do you have an amazing, and healthy, variation on a classic dish? We want to know about it in the comments below.