Grilled King Prawns with Blood Mary Butter Green Oil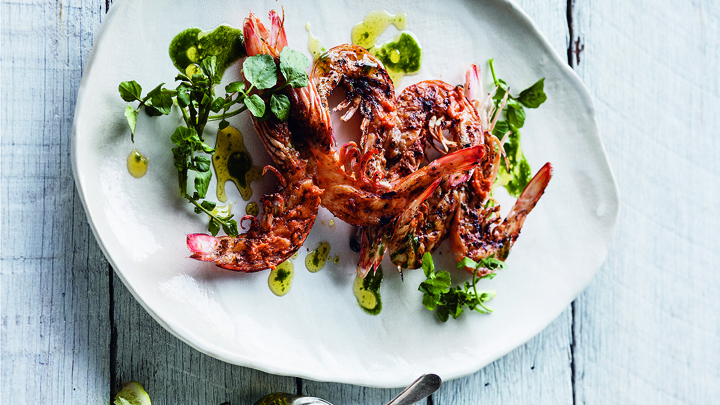 Grilled king prawns are so delicious their flavours should be allowed to shine. This is an amazingly flavoursome recipe brought to you by Kate Gibbs, Margaret Fulton's granddaughter.
Serves 4
Preparation – 30 minutes
Cooking – 10 minutes
Ad. Article continues below.
Ingredients
12 large raw king prawns (shrimp)
1 handful watercress sprigs lime wedges, to serve
Bloody Mary butter
60 g (2¼ oz) butter, softened
1 garlic clove, very finely chopped
2 teaspoons Tabasco or hot sauce
1 teaspoon sweet paprika
1 tablespoon tomato paste (concentrated purée)
1 teaspoon Worcestershire sauce pinch of sea salt
Green oil
250 g (9 oz/2 large bunches) curly parsley, leaves picked
60 ml (2 fl oz/¼ cup) extra virgin olive oil
sea salt
Method
Ad. Article continues below.
For the green oil, bring a medium saucepan of salted water to the boil and have ready an ice-water bath.
Add the parsley leaves to the boiling water, cook for 20 seconds until bright green, then drain and quickly transfer to the ice bath to stop the cooking process. Drain, then put the parsley in a food processor or blender and blend until smooth.
Pour the parsley purée into a muslin- (cheesecloth-) lined sieve placed over a jug or bowl and allow the juice to drain into the bowl for 5 minutes. Squeeze the puréed leaves gently to extract more juice, then discard. Add the olive oil to the parsley juice, season with salt and whisk together. Set aside.
For the Bloody Mary butter, combine all the ingredients in a bowl and mix well.
Using a sharp knife, cut the prawns and heads in half lengthways, taking care not to cut all the way through – they should still be joined along the centre back. Open out the prawns and remove the gastrointestinal tract.
Using a pastry brush, brush the prawn meat with half the Bloody Mary butter.
Heat a barbecue or chargrill pan to high and cook the prawns, meat-side down, for 1 minute. Turn them over, brush with the remaining butter, and cook for a further 30 seconds, until just cooked.
To serve, arrange the prawns on a serving platter, drizzle with the green oil and scatter with watercress sprigs. Offer lime wedges for squeezing.
You can make the green oil in advance and store in a jar or airtight container in the fridge for up to 1 week.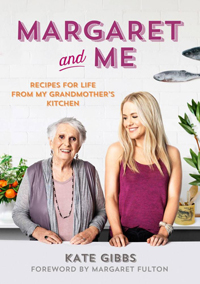 Recipe and image from Margaret and Me by Kate Gibbs (Murdoch Books) $33.95, available now via Booktopia.