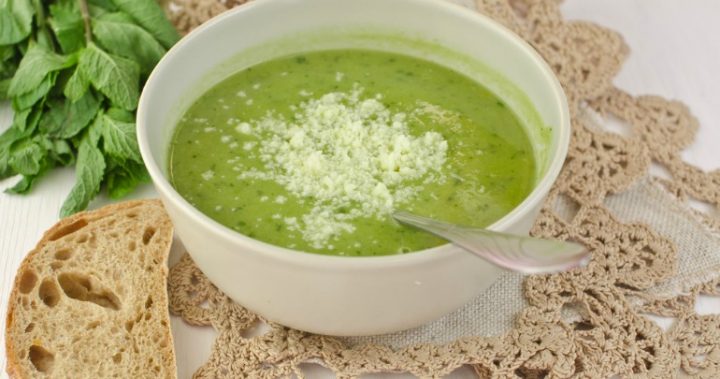 As a kid the idea of green soup was probably enough to send you running. Now though, we're old enough to know that our greens aren't just good for us, they're delicious as well! This soup is great for a light and tasty dinner and it's packed full of healthy veggies. After the Christmas and New Year period a lot of us are still feeling a little weighed down and in need of a detox and this soup is perfect for that. If you like, you can serve it with a dollop of Greek yoghurt and a slice of sourdough, or just enjoy on its own.
Ingredients
1 giant zucchini or about 500g
1 onion
3 cloves garlic
1 small carrot
1 potato
1 l vegetable stock
1 tablespoon olive oil
Salt, pepper
Handful of fresh herbs: thyme, chives, parsley
1 teaspoon Greek yoghurt, to dollop
Method
1. Wash and dice zucchini. Peel onions, garlic cloves, carrot and potato. Slice onion and garlic cloves, dice potato and grate carrot.
Ad. Article continues below.
2. In a soup pot heat a spoon of olive oil, then add onions and stir-fry until translucent. Add garlic, carrots and potatoes and stir-fry for about a minute, then pour in about half of the vegetable stock, bring to a boil, then reduce heat and let it simmer for about 10-15 minutes, or until the potatoes are almost cooked.
3. Then, add in diced zucchini, the remaining stock, season to taste with salt and pepper and let it cook another 5 minutes, so the zucchini get tender, but not overcooked.
4. Remove from heat and blend into a smooth soup with a stick blender. Then add in chopped fresh herbs, pour into bowls and add a teaspoon of sour cream into each bowl. Serve hot.