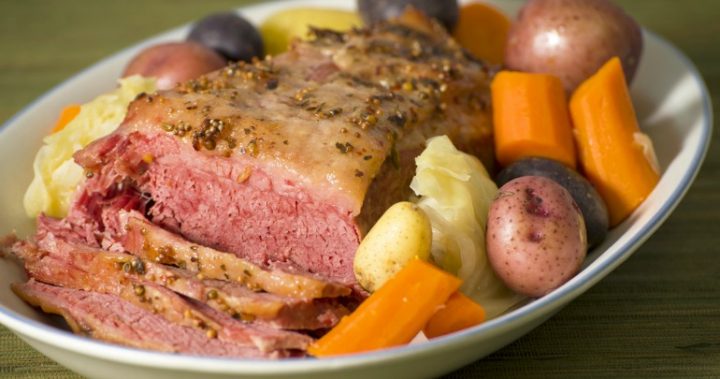 Corned beef seems to have gone out of fashion over the past few decades, but when done right it really is absolutely delicious! This recipe is packed with amazing flavour thanks to the cloves, sugar and vinegar that all work to make the beef succulent and tender. The mustard sauce makes the most of the flavoursome juices leftover in the pan once the beef is done and it really is a spectacular finish. The best thing about the recipe is that it's easy to make and you've probably got most of the ingredients sitting in your cupboard already. Serve with steamed greens and potatoes and slice up any leftovers for a tasty sandwich the next day. Delish!
Ingredients
1 1/2 kg corned beef (silverside)
2 tablespoons sugar
1/2 cup brown vinegar
Handful of whole cloves
Handful of black peppercorns
1-2 bay leaves
White mustard sauce
1 tablespoon margarine
2 teaspoons Dijon mustard
1 tablespoon plain flour
3/4 cup milk
Reserved juices from the pot to make up liquid in the sauce (approx 1/2 cup)
Ad. Article continues below.
Method
1. Wash meat and place in a large pot, then fill with water to just cover the meat. Add in sugar, vinegar, cloves, peppercorns and bay leaves. Bring pot to the boil and cover and simmer for 4 hours.
2. Once cooked, take the meat out and scrape off any fat while it's still hot. Let it sit and cool.
3. To make the sauce; melt the margarine, then add flour to make a thick paste. Stir in mustard, then keep adding milk until you get the consistency you want – a little thick at this point is best – then start adding juices from the pan, along with the cooked cloves and peppercorns to get a nice thin sauce.