Grandma's Welsh cakes with honey butter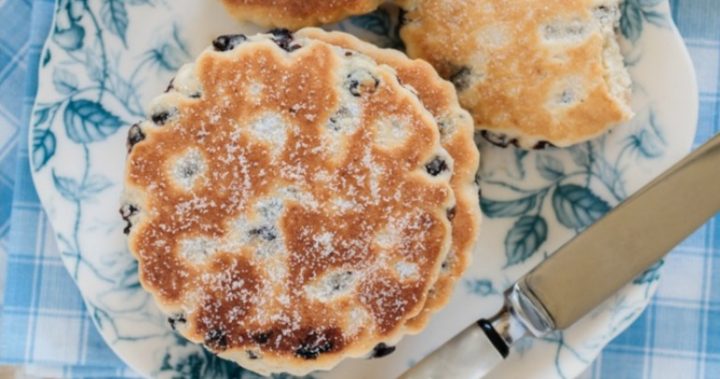 Traditional Welsh cakes are so delicious and usually served as an easy afternoon treat or a tasty breakfast to start the day. They are crumbly and buttery and taste so beautiful fresh out of the frying pan and slathered in butter that just melts straight into it. This recipe has a special twist with a honey butter that really takes the flavours to the next level and is so good you'll be wanting to slather it on everything! The recipe calls for currents, but you can use raisins, saltanas, dried blueberries or whatever else you have on hand. Welsh cakes aren't that common in Australian anymore and the recipe seems to have gone missing in a lot of modern cookbooks so give them a go and bring this old favourite back into fashion!
Ingredients
250g (2 cups, spooned and scraped) plain flour
1 tsp baking powder
Pinch salt
Pinch ground cinnamon
115g old unsalted butter, diced
1/3 cup caster sugar
1/2 cup dried currents
1 large egg, lightly beaten
1 Tbsp milk to bind, as needed
Additional caster sugar for sprinkling
Method
1. Whisk together the flour, baking powder, salt and cinnamon in a mixing bowl. Use your fingertips to rub the butter into the flour until it resembles soft breadcrumbs. Add the sugar and fruit, add the egg and mix to form a dough. Add a splash of milk if necessary if the dough is crumbly.
Ad. Article continues below.
2. Roll the dough out on a lightly floured surface to about 1/2cm (about 1/4″) thick. Use a cookie cutter or drinking glass to cut out rounds, re-rolling and cutting the scraps as you go.
3. Rub a cast iron pan with a little butter, and heat the pan on medium-low. Cook the cakes in batches for about 3 minutes on each side, adjusting the heat as necessary, until golden brown. The heat should not be too high, otherwise the cakes will scorch on the outside before they are cooked through. Transfer the cooked cakes to a wire rack and sprinkle with additional caster sugar.
Honey butter
Ingredients
115g unsalted butter, room temperature
2 – 3 Tbsp dark liquid honey
Small pinch fine salt
Ad. Article continues below.
Method
1. Beat together the butter, 2 tablespoons of the honey and a little salt until smooth, light and creamy, taste and add more honey if desired. Serve immediately if you want it soft and whipped, or transfer to parchment or plastic wrap, form into a log, wrap and refrigerate until firm.