Grandma's chicken and mushroom pie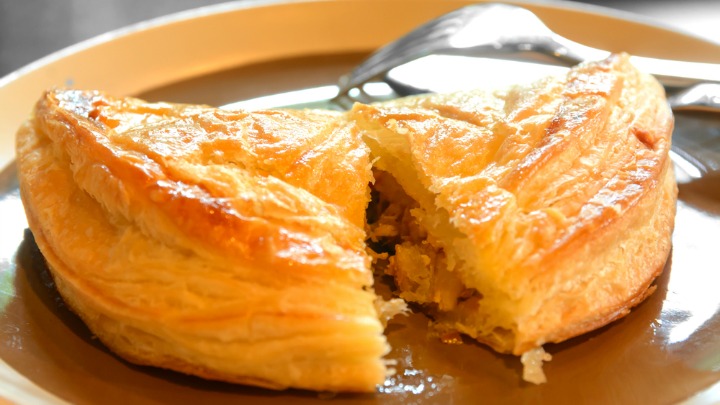 Comfort cooking doesn't get much better than an old family classic like this. Chicken and mushroom pie was a staple in many households back in the day and this recipe harks back to the home cooks from the 50s and 60s, but with a few modern upgrades. The lemon preserve brings a beautiful flavour that works so well with all the herbs in the mix. The chicken stock, butter, bay leaf and gorgeous chicken marylands come together to make the gravy, which is good enough to eat on it's own, and it's all encased in layers of light, buttery and golden pastry. It's hard to stop yourself from going for seconds with this pie, so we say dig in!
Ingredients
4 small chicken marylands or 2 large free-range chicken marylands (thigh and leg joined)
5 tablespoons (100ml) extra virgin olive oil
2 fresh bay leaves
1 quarter preserved lemon, pith removed, cut into thin strips
Sprig lemon thyme
1 teaspoon chopped fresh thyme
1 small onion, diced
8 medium field mushrooms, sliced
2 garlic cloves, sliced
1 tablespoon freshly chopped oregano
1 cup (250ml) chicken stock
1 tablespoon butter
1 tablespoon plain flour
2 tablespoons chopped flat-leaf parsley
4 butter puff pastry sheets
1 egg
1 tablespoon milk
Method
1. Remove the bones from the marylands (or ask your butcher to do this), leaving skin on. Cut the meat into square 2cm chunks. Place in a bowl with 3 tablespoons of the olive oil, bay leaves, preserved lemon, lemon thyme and fresh thyme and set aside for 20 minutes.
Ad. Article continues below.
2. Heat remaining olive oil in a large frypan, add the onion and mushrooms and cook over medium-high heat for 1-2 minutes until cooked. Add the garlic and oregano and continue cooking for a further minute.
3. Season chicken pieces with sea salt and place in the pan with the mushrooms, adding a little more oil if necessary, then cook over medium heat, stirring constantly, for 2-3 minutes to seal. Add chicken stock and simmer for a few minutes to combine.
4. In a separate saucepan, melt butter and cook over medium heat until nut brown, then add flour and cook until mixture comes away from the sides of the pan. Add mushroom and chicken mixture to pan and stir to combine. Cook over low heat for 10 minutes, stirring occasionally, being careful not to overcook the chicken. Cool mixture, check for seasoning and add the parsley.
5. Cut shapes from pastry sheets to line the moulds of 4 Texas muffin pans or 4 mini loaf pans, then cut pastry lids slightly larger than the top of each mould or pan. Fill the cases with the chicken mixture. Whisk the egg and milk together and brush this over the edge of the pastry. Put the lids into position and press around edges with a fork to seal. Use a sharp paring knife, trim the pastry and score with a couple of gashes to allow the steam to escape. Brush all over with egg and milk. Refrigerate the pies until you are ready to cook them.
6. Preheat the oven to 220°C.
Ad. Article continues below.
7. Bake pies for 20 minutes or until golden. Serve hot or cold.
—————————————————–
If you'd like to see more recipes from Starts at 60, click here. And if you have a recipe you'd like to share with the Starts at 60 community – we'd love to share it! Submit them to us by completing the form below.
Submit your article here