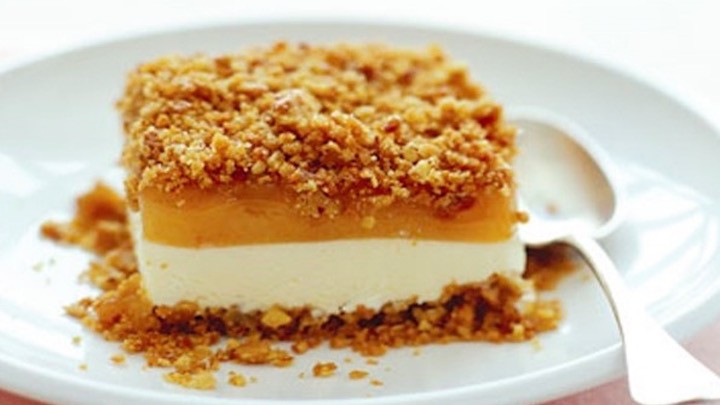 The Golden Gaytime cake often wins the popularity vote for dessert so you'll love this ice cream crumble recipe. The yummy layer of caramel, crumbled mixture and cold cream is destined to be an instant winner for all lucky tasters. This dessert is truly decadent and delicious.
Prep: 6 minutes – Cook: 20 minutes – Servings: 16
Ingredients
1 cup (250g) margarine, melted
1 cup (200g) brown sugar
1 3/4 (270g) plain flour
1/2 cup (50g) rolled oats
1 cup (125g) pecans, coarsely chopped
500ml bottle caramel topping
2 litres vanilla ice cream, softened
Ad. Article continues below.
Method
Preheat oven to 180°C. Line two baking trays with non-stick baking paper. Combine the margarine, sugar, flour, oats and nuts in a bowl. Divide between the trays. Press into a thin layer. Bake for 15 minutes. Cool for 5 minutes, then crumble while still warm. Set aside to cool completely.
Line a 20 x 30cm baking dish with non-stick baking paper. Spread half of the crumble mixture evenly over the base of the dish. Drizzle half of the caramel topping over the crumble. Spread the ice cream over the caramel.
Sprinkle the remaining crumble mixture over the ice cream. Drizzle the remaining caramel topping over the crumble. Cover and freeze overnight. Cut into squares to serve.
Have you ever made a golden gaytime cake? Share with us below!