Gluten free broccoli and cheddar muffins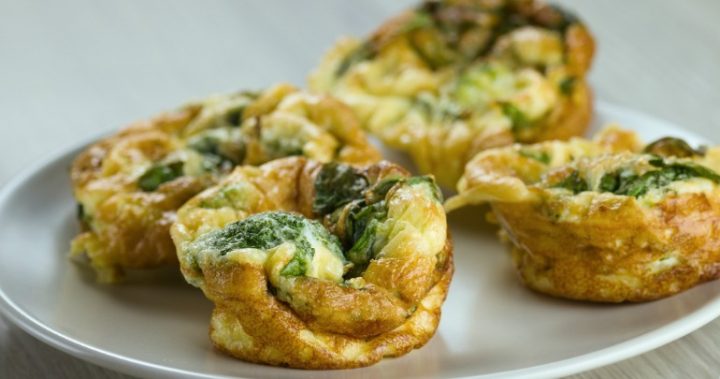 When it comes to snack time it's so easy to find yourself reaching for the biscuit tin when you really should be going for a healthy option instead. A savoury treat like these protein-packed broccoli and cheese muffins are a great option and because they're homemade, you know they haven't got any of the added nasties that come along with so many packaged foods today. You can throw in some extra veg, like mushrooms or diced capsicum if you like, and mix it up with whatever herbs you have in the fridge. Whip them out when you need a quick and easy snack or enjoy for breakfast instead.
Ingredients
8 eggs
½ cup milk
1 tablespoon fresh parsley, chopped
¼ teaspoon salt
¼ teaspoon black pepper
1 teaspoon Dijon mustard
2 cups broccoli florets, chopped into bite sized pieces
1 cup chopped onion
1 teaspoon coconut oil (or other oil type)
1 teaspoon diced garlic
1 cup grated cheddar cheese
Method
1. Preheat oven to 190C. Heat oil in a small frying pan over medium heat. Add chopped onion and saute for 3-4 minutes until starting to turn translucent. Add broccoli and garlic and saute another 2-3 minutes to soften, stirring to evenly cook.
Ad. Article continues below.
2. In a large bowl, beat eggs and milk together using an electric mixer or whisk. Add parsley, salt, pepper, and mustard and beat to mix well.
3. Grease a mini-muffin tin with butter, then split veggie mix between each muffin hole. Sprinkle cheese on top of veggies. Pour egg mixture over veggies, leaving a small amount of space at the top to avoid overflow while baking.
4. Place in oven and bake for 12-14 minutes until set. Remove from oven and let cool for 5-10 minutes before tracing around each egg muffin with a butter knife too loosen and remove from pan. Store in an airtight container in the fridge for 4-5 days and reheat using the microwave.