Gingery pineapple cake and cinnamon custard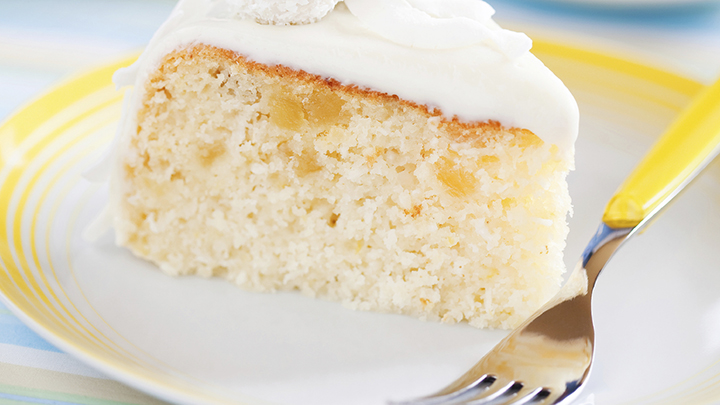 This gingery pineapple cake is a serious delight. It's not too sweet and the cinnamon custard is just divine.
Ingredients
Serves 8
440g can pineapple rings in natural juice
185g butter
2/3 cup (150g) caster sugar
3 large eggs
1/3 cup (75g) crystallised ginger
1 cup (150g) plain flour
1 cup (150g) self-raising flour
2 teaspoons ground ginger
Cinnamon custard
Ad. Article continues below.
1 cup (250ml) milk
2 egg yolks
1/4 cup (55g) caster sugar
1 teaspoon ground cinnamon
Method
Grease deep 20cm round cake pan, line base and side with baking paper.
Drain pineapple over small bowl; reserve juice. Chop pineapple finely. Beat butter and sugar in medium bowl with electric mixer until light and fluffy. Add eggs, one at a time, beating until just combined after each addition.
Stir in pineapple, reserved juice and crystallised ginger (mixture may curdle). Stir in sifted flours and ground ginger. Spread mixture into prepared pan; bake in moderately slow oven about 1 1/4 hours.
Stand cake in pan for 5 minutes; turn onto wire rack to cool. Serve with cinnamon custard, dusted with icing sugar, if desired.
Cinnamon custard
Bring milk to boil in medium pan. Whisk egg yolks, sugar and cinnamon in medium bowl until thick and pale; gradually whisk into hot milk.
Stir over heat, without boiling, until custard mixture thickens slightly.
Ad. Article continues below.
Another option is to add icing to make this cake an even better treat! 
Will you try this recipe? What is your favourite dessert at the moment?